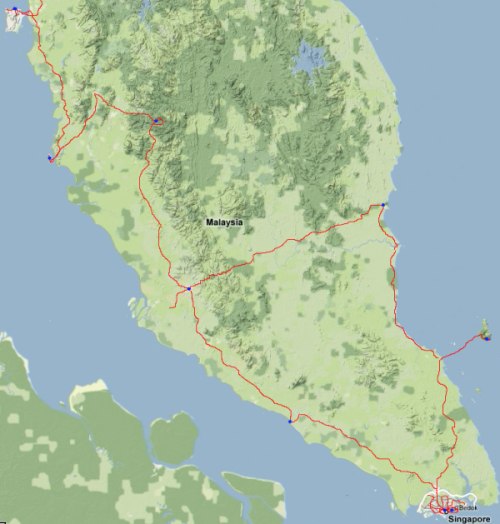 24-May-2006: Final day in Kuala Lumpur

So I spent three more days in Kuala Lumpur, spending half of the time in Internet cafes programming and the other half walking the streets enjoying the sights. It's a pretty modern city but there are also some older parts in China town where I stayed. The Patronas Towers are very impressive, not only because of their height (they are no longer the tallest buildings in the world anyway) but for the shape and materials used as well. But there are also many other high-rise buildings and as they are closer together than in Bangkok, they look more impressive. I did several walks between China town and what the call KLCC, (Kuala Lumpur city center) there is a good public transport system including a subway and a monorail line which I rode for the views, but the city is small enough for walking. I tried for quite a while to rent a bicycle but couldn't find one. I did find a really nice place to eat, the 'Blue Boy vegetarian restoran' which served me delicious veggie meals other the days. There have a huge array of meaty looking dishes and because they is no real meat in, I could try them all, I wouldn't do that elsewhere with real meat as I am very picky about what kind of animal parts I am eating.

21-May-2006: From the Cameron highlands to Kuala Lumpur

I leave the guest house around seven and get a ticket for the super V.I.P. bus to Kuala Lumpur (KL). I have Rotis for breakfast and buy some food for the ride before getting on the bus. It's really comfy, there are only three seats per row and I got a single one at the left hand side. I listen to 7 asp.net popcasts which I discovered and downloaded yesterday, it's okay but no DotNetRocks. I arrive in KL around 12 and it's hot again after those cool days in the highlands. I check into a hostel near Chinatown, which has a nice common area but the rooms are windowless and very basic. There is a central air condition, so the place is cool. Not really worth 30 RM considering there is a shared bathroom again, but it seems that's the price level down here. I walk around Chinatown a little bit and spend some time in a bookshop. While I am looking at a world cup book a local guy approaches me and he is very friendly. He introduces me to his wife and his adult son and daughter who are also all very nice. We talk and they buy me a drink in a local eatery and then invite me to their home. The thing that should have raised the alarm bells is that they want to introduce me to their young cousin who is going to study in Manchester soon. Neil (a guy I went trekking with the days before) had told me that he was approached at least twice about people who had cousins on their way to Manchester university. They are so nice that I get into the cab and we drive to their house which is in a more suburban part of K.L. We have lunch together and talk about my travelling and stuff. A bit later they introduce their uncle who works at a resort in some highland resort nearby. It turns out that he works as a Black Jack dealer in a casino. We go into his office (a back room) and he shows me how to always win at Blackjack, by being the partner of the dealer. At this point I'm getting a bit uncormfortable but play along. He tells me about the special V.I.P. rooms in casinos around the world. There is only the dealer, one player and a guy called the banker. He shows me some tricks on how the player and the dealer can work together to always win. The dealer lets the player know what card is next on the deck and what cards the banker has who also has a special rule that he sometimes has to buy cards and sometimes can't. With these bended rules I can always win as long as the dealer is helping me. So this guy wants to make me his partner. We play some rounds with toy chips and it all makes sense, except it doesn't if this would be so easy everybody would do it and the casinos would know about it. It turns out he expects a rich business woman from Brunai at his house right now and she would be the banker, so we should try to rip her off. At this point some hundred dollar bills are shown and that's it for me. I tell them (the son and daughter are watching) that I don't want to have anything to do with this, not even watching and suddenly he becomes much cooler and asks me where his driver should drop me off. The others are still very friendly but they know now that I know now that all this was a scam and that there is no cousin. While in their car I'm thinking 'What now?' but they really just drop me off in Chinatown and even recommend places where I can buy a bicycle. I do some more walking around in the area. The spend some time at the internet place on the second floor in the building my hostel is in. Then I walk over to the a hotel where they are suppose to have bikes for rent but they never did (As I always say 'The internet is full of lies'). I move on through the hotel area to the Petronas Towers and spend some time at Kinokunyia book shop in the shopping mail right next to the very impressive twin towers. There are tons of new IT books out that I would love to read. Just looking at the sealed books takes me hours. On the way back I walk through a nice and quiet embassy area and then a loud nightlight zone. After some more internet, the place is open 24 hours I go to bed at 1 a.m.

12-May-2006: First day in Georgetown

Yesterday I arrived in Malaysia after a few days of working on TweeNet in the Southern Thailand town of Trang. I'm now in Georgetown on the island of Penang, which is located of the Western coast of the Malaysian peninsular. First thing in the morning was the move from the 'Love Lane Inn' to the '75 Travellers Lodge' around the corner. For the same price I got a nicer room, it has a window and a sink, even though the toilets and showers are still shared at the end of the corridor. As most backpackers I'm staying in the old part of the city which is basically China town with a few blocks Little India thrown in. In the morning I explore this neighbourhood, I really like it, its very Chinese but in the old way with small old houses, I've hardly saw this in China anymore. There is also some Portuguese influence in the architecture even though, their ruling here has been over for hundreds of years and they have been following by the Dutch and later the British. You can also see some British buildings but those are more the bigger administrative buildings, and not residential houses. It's pretty hot and I always try to walk in the shade, luckily there are some clouds coming which makes it a bit more bearable. Back at the guest house I rent a bicycle, pretty good mountain bikes and even the gears are working. I haven't been on a proper bike ride since Myanmar and the bikes there were pretty bad. Today is a public holiday, apparently Buddha's birthday and the guy at the guest house recommends to avoid the main tourist attractions. Instead I decide to go to the beach, there is a village about 20 KM away on the north coast of the island. On the way I see many locals around temples celebrating. The public buses here look like prison transporters, black with a long white stripe, but maybe I just watch too many stupid films. I have lunch on the way 'Nasi Goreng', which is pretty much just good old fried rice, but it is also my dad's favourite Malaysian dish, but somehow I doubt that he tried that many different ones. After 45 minutes the city of Georgetown ends and the road become very windy along the coast. Reminds me on the south coast of Hong Kong island if you are familiar with that one, steep hills and lush green forest. It's up and down all the time but fortunately it's all ridable. Malaysia is the first country since Vietnam that uses the Latin alphabet and I can at least try to understand what all the signs along the road say. A funny thing is that they are using many English words but spell them in their own way which is the same as a German could spell them, guess what these mean: Kafe, Restoran, Polis, Botik, Kompleks. My destination Ferringie, even though I always call it 'Ferengi' is just a long stretch of thin beach with loads of hotels and resorts on it. I walk on the beach for a while, the water is not that clean and rather than swimming, people ride Jet Skies. I am wondering why someone would decide to spend their holidays in a place like this. The green mountains are a nice backdrop but the rest of it is not really that nice. I guess better weather would help as well, it's still hot but pretty cloudy now. I cycle back and stop at a few more smaller beaches without any hotels which I like much better, there are a few local families out of these beaches, I guess it's their way to celebrate Buddha's birthday. Back in Georgetown the ground is very wet, it must have rained here a lot. I'm exhausted and take a break for a few hours and do some laundry. In the evening I walk for 30 minutes to another part of town where there is a long procession or parade of people and decorated cars all in honour of Mr. Buddha. On the way back to the guest house I have dinner at a Chinese restoran, thinking of it, I haven't been to a proper Chinese restaurant since half-way through China. This one is a 'Vegetarian food centre', no meat what so ever, so you can get a veggie Peking duck which looks like the real thing but isn't. Going out to dinner on my own is the time when I miss Olivia the most.