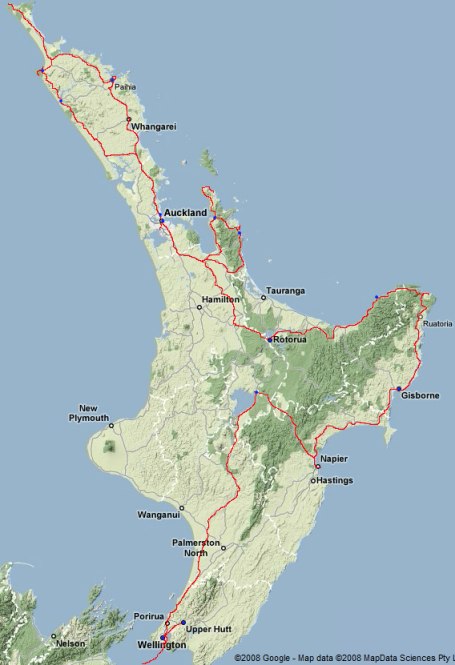 23-May-2007: Flight from Auckland to Papeete on Tahiti

There is no public transport to the airport but there are mini-buses and via some notes on the message board in the hostel I found three other people to share the ride, which means it only costs about 13 dollars. I still have to pick up my tickets at the Flight Centre in the airport, and they have it, so no problem. I'm early so walk to a supermarket near by for some food. The first leg of the flight will bring me to French Polynesia, or more exactly to Papeete on the Island of Tahiti. I looked into staying here for a few days but after some investigation it turned out to be to expensive and because of the flight schedules I had to stay for a whole week. So it was a bit sad that I was on a Air Tahiti Nui flight to Tahiti and wouldn't stay there.
I really really enjoyed the last two months in New Zealand, much more than I thought I would. I guess meeting so many nice people at the hostels and all the great locals when hitching helped a lot. But after all it was the country and its landscape that I really liked.

22-May-2007: A day in Auckland

I check out some of the record stored Barry recommend, besides Real Groovy, Marbecks down in the Queens Arcade has some good stuff. This guy Brian imports records from all over. I revisit the museum up on the domain and do some general sightseeing. The English girl in my room never gets up before noon, and goes out early in the evening so I don't see her much. But I met the guy in the top bunk above me. He is from New England and is also flying tomorrow. So for our last evening we go out for dinner in a nice place on Parnell Road.

21-May-2007: Orewa to Auckland

Last time on the road in New Zealand, I could take a bus into town, but I'm too proud and try to hitch. The first ride just gets me to an inner suburb, from there another one right into town to the marina. I walk to the hostel which is in an area called Parnell a bit east of the city center. I had heard good things about the City Garden Lodge ($22) and it's a nice place but my room is in some sort of garden shed and it bit cramped with the three beds in there. I explore some neighborhoods, it's weird to be back in a big city, but I guess it barely prepares me for New York City in a few days. At night I meet up with Barry, an indiepop kids my friend Rachel in London introduced me to, we go out for drinks in Parnell and talk about music for the first time in a while.

20-May-2007: Paihia to Orewa

Hitching back to Auckland, actually back to Orewa and the Marco Polo backpackers again. It takes several stops to get back, this time on the main Highway 1, not very interesting.

19-May-2007: Daytrip to Rusell

I take a 20 minute boat or I guess ferry ride over to Russel which is the one of the oldest settlements around here and some of the older buildings are still around. The town is a bit to touristy for me and I walk up a hill with a great view over the bay of Islands, here you can tell where it got its name from. Back down to two beaches and then back to the ferry. Wherever you look there are buildings and ships in this area, it's nice to have your house here but this is not the New Zealand I came for.

18-May-2007: Cycling to Waitangi treaty grounds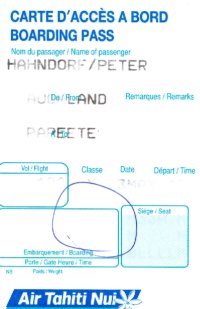 I get a bike form the hostel and cycle around town a bit and then over to the Waitangi treaty grounds, where the British and the Maori tribes signed an importand contract in 1840. Interesting but maybe more so for New Zealanders than for us foreigners. Have dinner at the hostel and sit with three Malaysian girls. Miss Austria has moved on to sell her car in Auckland.

17-May-2007: Ahipara to Cape Reinga to Paihia

With the Austrian girl and her car to Cape Reinga, which is a few hours drive all the way to the very top of the North Island. Some people and bus tour and driving on the 90 miles beach for a while, but my friend from Linz doesn't trust her car enough, so we take the road. Great weather, the first blue skies for a few days. Cape Reinga is a nice spot and very empty, I guess it was a good decision to leave early to get there before the crowds. On the way back south, the car makes funny noises and she complains about the driving as well. We stop and check the car and find that the left front tire is ripped apart. Luckily we are already back in civilization and it is only a few kilometers to the next village where they actually have a garage. They change the tire and we are back on the road after just 30 minutes. We drive on to Paihia, a town on the Bay of Islands. There are at least six hostels in this relatively small place, it's a tourist location you can tell. The Kiwi Experience coach unloading its crowds into two hostels, so we check into the Peppertree Lodge, ($22) which is a little bit up the road and pretty quite and the American girl at reception is really nice too.

16-May-2007: On the 90 mile beach

I spend most of today on the beach walking about the wide sand stretch. Huge dunes on one side the surfers in the waves on the other. I meet the Austrian girl in the bed above me.

15-May-2007: Omapere to Ahipara

The only other person in my room is Richard from Auckland, he was never been up here before and importantly, he has a car. We drive for a while and then have to cross the bay. On the other side it an old village and we walk around it for 30 minutes. Then we continue to Ahipara, a place at the south end of the 90 mile beach I heard many good things about. We get the two last beds at the Endless Summer Lodge ($21), a nice building right next to the beach. It turns out this is surfer central, about 80% of the guest are surfer from Australia, Japan, the US. There are a funny crowd, it seems all they do all their life is surf in all the great locations abound the globe. I walk along the beach a bit but then hang out in the hostel. In the evening Richard and I drive to the next town Kaitaia for shopping and dinner.

14-May-2007: Oreaw to Omapere

The first ride is by a truck for a while, two funny Maori guys. I want to get up on the west coast, so I get off the main Highway 1. A few very short rides by locals follow and get me into Dargaville. This is the last town for a while so I do some shopping. More local rides, I have to wait at a petrol station for one hour. There is no traffic on this road even though it is one of the two main highways leading up north. Then I finally get a list from a Maori guy, after we talked for a while he offered me to stay at his house, he says he always has some backpackers staying. He makes some racists remarks about Asian people, so I don't feel too good about him. After some flat parts we get back into beautiful hilly landscape and forests with Kauri trees and he explains things about them to me. I get off at some point to see the bush but the visitor center there is closed, I'm now in the middle of nowhere and it also starts to rain. Not a single car for 50 minutes on the road, but the first one gives me a lift, a Maori again but much nicer. Omapere is a small settlement on the coast. Globetrekkers Lodge ($21) is on a hill with nice views over the mouth of a bay and huge sand dunes on the other side. So I missed the biggest Kauri tree in the Waipoua forest, but I didn't want to get out of a car again on that road. It doesn't look much better for tomorrow.

13-May-2007: Hahai to Orewa

I get a ride from a girl in my room. I thought she was German too, but it turns out she is a Dutch librarian on her weekend break. She works as in intern in a library in Hamilton. We first drive to Cooks beach where we walk up a hill with good views over the bay. Then south along the coast to Waihi with a huge coal mining hole in the middle of the town. On the way we stop somewhere and after a walk through a forest we reach at a nice beach. It's Sunday morning, sunny and warm and families are coming out to spend the day here. She drops me off in Paeroa and there I get a ride all the way to Auckland from a Kiwi guy with his 3 year old son who is a bit annoying. The guy is fixing faulty water pipes in new houses and makes lots of money. He drops me off right in the heart of Auckland near the train station. I do some grocery shopping and then take a local bus to Orewa ($9.70) north of Auckland. We are driving over the harbor bridge, which is not as big as the one in Sydney but gives you nice views over all city and the bay with all the sailing boats. Thinking of it, I never went over the Sydney harbor bridge. The bus takes 80 minutes as we stop quite a bit, but that's okay I don't want to stay in Auckland and being already north out of the city should give me a good start in the morning when I want to continue further north. Marco Polo Backpackers Lodge ($20) is nice and quite, I walk down to Hatfields Beach, many Aucklanders come out here for a Sunday stroll on the long beach. Again there is a whole bunch of Germans at the hostel when I get back. I talk to a hot German girl about China. She visited her dad who works in Shanghai and made very different experiences compared to me. She was on the rich side of the big divide over there.

12-May-2007: Coromandel Town to Hahei

I walk to the end of town and get a ride from Heather for 30k, then a few minutes later an older American couple picks me up and we go together to Hotwater beach which is cool. You dig a whole in the beach and the hot water from the springs is filling your little pool, then the tide comes and the cold sea water is coming. If you dig really deep you can nearly burn yourself. After a short life by a local back to the main road a couple from Tasmania who I have met at the beach gives me a ride to Hahei, just down the road. I check into Tatahi Lodge ($20), it's a motel with a backpacker building, not the prettiest but good facilities. I walk to the beach and then along the coast to Cathedral Cove. Lots of people here, it's a touristy spot and it is easy to get to. I meet the Tasmanian couple again and also the French guy from the Sea view lodge in the Able Tasman national park a few weeks ago. Buy stuff for dinner at the small shop in town. My usual meals are pasta or rice with some sauces from cans or glasses, nothing fancy but easy to do. Watch some movies and talk to people at the hostel, whole bunch of Germans again.

11-May-2007: By rental car to Fletcher Bay

Sam and I want to go to Fletcher Bay, at the top end of the Peninsula and it seems there is nothing there so very little traffic which makes hitching not a good idea. There are bus trip but they cost $80 each and only run if there are at least five people or so. So we rent a car at the local petrol station, a white Toyota Camry for $55 a day, even with the cost for gas this is much cheaper than the bus and more fun too. I haven't been driving a car for 20 months or so. Sam can't drive so I have to be behind the wheel the whole time. The roads are empty but windy and narrow in parts. We go up north along the coast, quite beautiful. We stop to look at a dead whale on the beach. It must have been here for a while, as it it yellowish and smells quite a bit. The second half of the way is gravel road only. I drive too fast down a hill and loose control over the car a bit but manage to get it back and drive more careful after that. We can't to the whole Coromandel walk way because it takes six hours, but we do about two-thirds of it. Really nice views, first we cross some hilly farm land with cows everywhere then some forest and finally along the coast up on the hills. We sometimes go down to the beach. As I am pretty fit and Sam is not, I have to wait for her sometimes. We don't see any other person on the track. Long way back to the Lions Den. I return the car and fill it up, $22 for gas. At the hostel I talk to an Australian couple and Heather from Montana.

10-May-2007: Thames to Coromandel Town

Walk to the edge of town, after a short while I get a lift by a local halfway to my next destination Coromandel Town. The next car even turned around to pick me up, a Canadian veterinary student. We have a good chat but she is moving on passed Coromandel. I check into the Lions Den ($20) a really nice place. Each room has a different theme and there is a big living room/kitchen as well. I talk to the owner and an English girl Samantha. I walk for a few hours up a hill next to the town with nice views over the area including the bays on the other side of the hill. Sam wants to go out, so I join her to a pub where we spend some hours and get drunk. She has a boyfriend Garret who she met in Australia and who is now working in Auckland. He is much younger than her and there are some tensions between them. We also talk about my relationship problems.

9-May-2007: Auckland airport to Thames

Back from the Cook Islands, I fly into Auckland, free Internet at the airport for a little bit. I then walk away from the terminal buildings and try to hitch. Some security guy stop and tells me that the don't like to have people hitching in the airport area. I think this is a public road already and keep trying after a few minutes. A guy gives me a ride to a town near the motorway. After some shopping at a supermarket I walk to the entrance but there is really no way for anybody to stop. So after a while I decide to walk to the next entrance further south. To get there takes about 90 minutes through suburban Southern Auckland, the different neighborhoods are interesting. Again not the best spot to stop for cars but after a while a couple picks me up and drops me off at the next service station. Towards the Coromandel area by a guy and the last part to a town called Thames by a woman. Nice empty hostel (Gateway Backpackers $18) near the bus stop. Later in the evening three Malay/Singaporians show up. I walk around town and watch some movies.

1-May-2007: In Auckland and flight to the Cook Islands

I do some sightseeing in central Auckland for the day and in the afternoon catch a public bus to the airport. My flight with Pacific Blue leaves at 18:45 to Rarotonga on the Cook Islands in the South Pacific.

30-Apr-2007: Rotorua to Auckland

The rain who had started was night continues and is even stronger now. I consider taking a bus or train to Auckland but they seem to expensive so I walk over to the main road towards Auckland in the rain and get pretty wet. All local traffic but after an hour a young Maori woman gives me a lift out of town to the junction towards Auckland and the North, it's already past noon by now. There I catch I ride all the way to Auckland which takes over two hours. As usual the guy tells me about his family and the countryside we pass through. We also talk a little bit about German policy and how great the new Chancellor Merkel is, I wouldn't know.
By the time we reach Auckland it is dark and he drops me off at a hostel ($19) near the Domain. It has a BBH sign outside but turns out that it hasn't been one for several year and is now run by some Chinese people. So this is the only non-BBH hostel I stayed in at all and you can tell, it's a bit dirty and things are broken. It's still okay and I'm glad to have a bed. I walk around a bit in the University area and have some food.

29-Apr-2007: Volcanic stuff and Maori culture In Rotorua

I hitch to the Whakarewarewa (try to pronounce that) Thermal Reserve a kind of volcanic theme park. At ten a.m. the country's biggest geyser, the Pohutu goes off in front of over a hundred tourists. This is actually not a natural thing, the put soap into it and then it builds up for a while to erupt and the scheduled time. The whole think is still very interesting and when I was here in 1993 with by backpacker bus we didn't have enough time to explore the whole area. Today I take my time to look at even the remotest hot pool and bubbling mud bath. On the way back I get a ride from a young English guy, he wants to do some boring, which is another one of those new outdoor adventure things they are so keen on in this country. I decide to come along and watch it. You get up on a hill and then climb into a huge transparent plastic ball with a patterned outer ring. Then you roll down the hill which judging by the screams of the people inside must be a lot of fun. You have various option, go by yourself, with friend, with added water inside. You also have the choice between a straight roll down or a windy bumpy path. It was interesting to watch but I could think of better things to do with 80 bucks.
Back at the Funky Green Voyager I decide to go along with some people I had met the previous night to see one of the Maori culture shows. I didn't do this back in 1993 and everybody who has been told me how great it is. So I had thought about going but didn't want to do it by myself. It was four of us and we knew each other a bit because half of it is having Maori food for dinner. The specialty is that they cook the food in an earth whole on coals for a long time. The food was okay but a bit bland. Then there was the main presentation, traditional music and dances including the Haka, their famous war dance. Everybody in the business is from the same family. At the end there is a walk through their forest in the dark and you can watch them canoing on a little stream and see some nocturnal animals.

28-Apr-2007: Rainy day in Rotorua

Not much going on today, it rains quite a bit and I just walk around in town doing some sightseeing at the Maori sights and the hot volcanic pools in various locations as well as well as the famous Tudor Towers. I also get a new cord for my new electric shaver, I must have forgotten the original one in Taupo.

27-Apr-2007: Whanarua Bay to Rotorua

Even though there is very little traffic on the road, I catch some rides with people on their way to work and make it quickly into Opotiki and then on to Rotorua. I haven't seen any tourists except in the hostels in the last three days. The East Cape is not on your usual visitor itinerary because it lacks the spectacular landscape, and driving around it by yourself would have been not even half as interesting as hitching through it.
Rotorua on the other hand is very overtouristed, I have been here in 1993 as well but just for one night. I've heard good things about the 'Funky Green Voyager hostel ($19) and it is indeed a really nice place' with very friendly staff.

26-Apr-2007: Gisbourne to Whanarua Bay

Today I'm on the road on the East Cape which is the very sparsely populated area in the North-East of the North Island. This is Maori country, they make up about 80% of the population around here. 5 of my 7 rides today are with Maori people and that's very interesting. There was a funny lady who who's first sentence was 'You don't hit me on the head, don't you!' but she would still pick me up. The drivers pointed out their farms or fields to me and explained about their culture a bit, it was totally fascinating. One ride was on the back of an open truck with tons of chopped up wood and three dogs chained to the truck running around. I was on the top of the wood and had to hold on to some rack to not fall off the truck. But it fun going on windy road through the green hills on an open vehicle.
The only road here is state highway 35 which goes along the coast in an U shape, the center of the peninsula just has some mountains but hardly any people. I make it to the other side facing away from the Pacific. My hostel today is the 'Maraehako Bat Retreat' ($25) on Whanarua Bay. It's down in a little bay right on the beach a steep walk down from the road up in the hill. They have free Kajaks, so I get out on the bay for an hour. Really nice place but there are only two other guests here.

25-Apr-2007: Taupo to Gisborne via Napier

Today is Anzac day, New Zealand and Australia commemorate this every year on the 25th of April to remember their troups in Europe in World War One. ANZAC is the 'Australian and New Zealand Army Corps' and people down here are very proud of it. This means this is a public holiday. I want to go to the east coast and after walking along the lake to the junction of the highway I get a ride with a 35 year old Maori. He is on the way to a prison in Hastings to pick up his oldest son for the day to go the funeral of his grandma in Wellington. The guy has four other children. I think, okay so here's the first Maori you meet in a while and all the cliches are true; criminals with many children. He is a really nice guy though and tells me a lot about the country we pass through and his family.
My first stop today is Napier, a mid size town on the east coast on Hawke's bay. There are a lot of art-deco buildings in the center. It's nice and sunny, the best weather since I arrived on the North Island, so I stroll around for a few hours. There are also speeches and music on the main square because of Anzac Day and most of the men there are in their old uniforms.
I hitch north along the coast, local traffic only so it takes a few rides to get to Gisborne. I never have to wait longer than 20 minutes with the average more like 10. I remember waiting somewhere and some Maori kids were playing in front of their house and then came over to ask me what I doing here waiting at the road and where I want to go. I little girl gave me some of her candy, that was really sweet.
I'm staying at the Flying Nun Backpackers ($18) a ten minute walk from the town centre which is not too special. I shop at a very crowded Pak'n'Save, because of the holiday everybody has the day off and goes shopping, everybody but the Pak'n'Save employees, that place seems to be the only one open today. I chat with some surfers at the hostel, there must be some waves around here.

24-Apr-2007: Booking flights in Taupo

I'm thinking about doing the Tongario crossing, a long walk in the National Park but in the end I can't make up my mind. Instead I do nothing all day but booking my flight to London. This took longer that one would think. I had decided to go to the popfest in New York City later in the month and there were several option on how to get there and possibly on after that. I spend a few hours on and off with Lyane in the Flight Centre discussing my options. In the end I booked a flight via Tahiti to New York and then later in August on to London Heathrow. This was a big deal for me because not only did I book something far in advanced but it was also end my trip.
Lazy afternoon in Taupo and the Rainbow Lodge.

23-Apr-2007: Wellington to Taupo

I take a local train to Paraparaumu over the hills on the west coast to get out of the capital for a better hitch location. After two short rides I get in with a local who goes all the way to Taupo where I want to go today. We make a stop at a pub for a few drinks on the way. We have to cross the plateau near the Tongario National Park with peaks like the volcano Mt Ngauruhoe which we can see in the distance. In Taupo right on Lake Taupo I stay at the Rainbow Lodge ($21) which is nice enough.

22-Apr-2007: Picton to Wellington

Morning ferry back to Wellington on the North Island, the weather is better this time Marlborough Sound looks great. In the capital I check back into the Downtown Backpackers ($21).