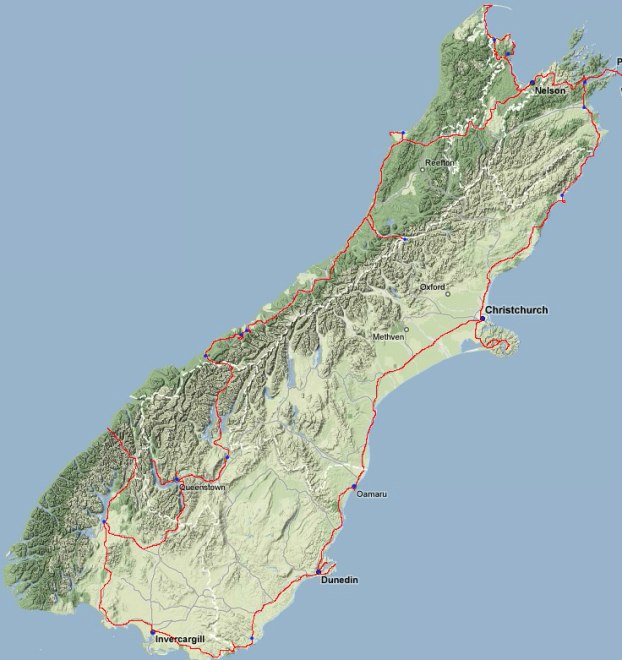 21-Apr-2007: Nelson to Picton

After an hour wait in Nelson and a quick ride out of town I got a ride from a lady all the way to Picton, beautiful weather again and we took the road along the Queen Charlotte Sound, great views there. I decide to stay a night in Picton and take the morning ferry. Booked into the same hostel as on my first day of the South island. Sit in the sun with a view over the sound and listen to IT podcasts.

20-Apr-2007: Marahau to Nelson

I Get a lift with the two German girls to Nelson. Walk up to the Center of New Zealand and spend some time online in the hostel downloading popcasts and uploading photos to Flickr. Watch some movies at the hostel, which is again "Accents On the park".

19-Apr-2007: Walk on the Able Tasman Coast Track

I walk all the way to Torrent bay and back, 8 hours straight walking. It's a very very nice track through the rain forest with views over the Tasman Bay and the golden beaches below. I'm pretty tired when getting back. An English couple and two German girls have arrived at the house. We struggle to start the fire, but manage in the end. Marahau, The Barn Backpackers $22 Sea View Lodge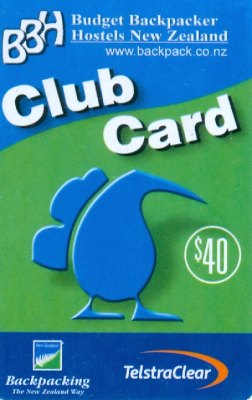 18-Apr-2007: From Takaka to Marahau

I hitch over the 750m Takaka hill with a local gardener and then to the coastal town of Kaiteriteri with a motel owner and her four kids. Small place with no backpacker accomodation but great beaches. I try to hitch to the last village before the Able Tasman national park, Marahau but there is very little traffic and in the end I walk the 11 km all the way, some of it quite hilly. I booked a bed in the only backpacker from Kaiteriteri. Rather than in the main building's dorm I get a bed in the Sea View Lodge, a new holiday house which only has a two bed bedroom but where they put four beds in the large lounge. Great kitchen and bathroom and sea views as promised. The only drawback is that the toilet doesn't work and we have to use a chemical one out in the garden, but otherwise they wouldn't let us stay here for $22 a night. There is a big stove in the center of the lounge. Most of the walls have huge windows in them so it may get cold at night. My room mates are a German couple in the double and an English, French and Israeli guy in the other dorm beds. The Barn Backpackers $22 Sea View Lodge

17-Apr-2007: Walking around Farewell Spit

Today's plan is to get to the very top of the Golden Bay and indeed the whole South Island. I walk to the end of Takaka, the main street has a surprisingly high number of cafes and art shops. A local farmer takes me the first two thirds towards Port Puponga the small settlement near Farewell Spit.
While I'm waiting it starts to rain and a beautiful rainbow stretches over the horizon. An English guy picks me up, he stays in a hostel just opposite of mine in the same street. We first split up but then meet again and walk the last few hours together. This whole area is yet another gorgeous piece of land. I first head out on the spit itself, there are dozens of black swans swimming on the golden bay side of the spit. The other side on the open ocean is much rougher and the strong wind blows the sand into my face. I'm heading back west and up the hills, occasional it rains a bit but it's not too bad and the afternoon is dry. I get higher and higher with great view in all directions especially over the spit itself which endlessly stretches on in the east. I love it. Thanks to its remoteness there are not many people here.

16-Apr-2007: Cycling to Taupo Point

There are three bikes at the hostel, so I get one and cycle to the coast and a place called Taupo Point, close to the Northern end of the Able Tasman National park. The coastal road is very winding and ill so I turn around after a while. I also cycle to the Te Waikoropupu Springs and a nearby hydro power installation in the forest.

15-Apr-2007: Nelson to Takaka

On a bus to the edge and town, then walking an hitching towards the Able Tasman National park on the other of the bay. A local drops me off in Motueka there is a big street market in the town so I have to walk through it so the other end and get another local ride close to Takaka. For this we had to go all the way to the top a dividing hill range and back down. What would normally be a 20 minute drive takes over an hour. I check into the small 'Get Away Backpackers' ($20) in a nice room, feels the family live and the lady who own the place comes over in the evening to talk to everybody.

14-Apr-2007: Westport to Nelson

It takes me quite a while to get over from Westport to Nelson, there is just very little traffic even though this is the main road in this part of the island. I first ride with some Westporters who are on their way to a car race in Greymouth, then another local guy who drops me in a small village. There I wait for an hour next to the Earthquake museum watching people getting their paper and milk from the local store. Finally a truck driver picks me up, the only one on this trip. We take a break in a small town and then continue towards Nelson. The last part I ride with an American student who has to go back north after the Easter break. I check into the 'Accents on the park' ($20) right next to the big church in the centre of town. I haven't done any Internet in a long time but and as usual the machines they have here are two expensive for me. However I want to check my email quickly and then manage to hack the internet cafe software so I can stay on as long as I want to my one dollar. I listen to the first RunAsRadio podcast while walking through the town.

13-Apr-2007: Author's pass to Westport

I want to go back to the West coast, there is not much traffic on the road so it may take a while. A guy in a house next where I wait asks me where I want to go and I well the up the west coast. He's willing to give me a ride as he goes that way as well. I help him packing his SUV and feed his big black dog before we take off. I leave him at the Pancake Rocks in Punakaiki, a very touristy place but worth the visit. The limestone rocks are worn out by the sea in a very unique way. The sea is pretty rough two and the waves are hitting against the rocks. After a bit of a wait I get a ride to Westport the last bigger town on the West coast. Further north there is just one road leading into the Tasman mountains. I stay at the TripInn ($21) a typical big old house converted into a hostel. It's empty when I get there early in the afternoon but is filled up by the evening. About twelve kilometers away is Cape Foulwind. A walk a little bit to the end of the town and then take to local rides to get to the parking lot at the start of the track. It's still sunny that there is a very strong wind, hence the name. The track is high up above the cape with great views. It takes about two hour to reach the other end, from there I hitch back into town. Over dinner I meet two Check girls and a whole bunch of other people.

12-Apr-2007: Franz Joseph glacier to Author's pass

A German guy I had already met in Te Anau and who has one of those Spaceships. These are orange Toyota family van based custom enhanced campers. You see them a lot on the South Island. A third guy comes along but leaves us in Greymouth after a few hours. I continue all the way to Author's pass which is in the middle between the two coast on highway 73, the only road that connects east and west in this part of the island. Very different landscape again up in the mountains compared to the flat coast land. We do some hiking on the way, it gets really cold up here. In Authors pass which is just a collection of a few building with a railway station I check into the Mountain House ($23) the only place I've been to which is a BBH and also a YHA hostel at the same time. The German guy is staying in his spaceship to save money, I'm don't thing that's a good idea because it will be even colder at night. In the afternoon I walk to a pretty tall waterfall. There is snow further up the montains but not on the pass itself. I also check out the DOC office with a small attached museum.

11-Apr-2007: Rainy day in Franz Joseph

It is raining all day, so I pretty much stay in the hostel, either in the TV room watching DVDs or in the hot tub which is fun.

10-Apr-2007: To Franz Josef glacier

The shortest distance between to places where I stayed. Franz Josef glacier at its township is just 12 miles down the road from Fox. I check into Chateau Franz Sir Cedrics ($22). I guess this used to be a motel but is now a hostel and the four bed rooms are fine with their own bathroom but not too big.
Again I walk to the glacier, this one is much busier with hundred of people all over the path that leads all the way to the base of the glacier. When I was here in 1993 I went up their with a guide and my Kiwi Experience bus group. Dozens of groups are doing the same today. It has changed quite a bit in 14 years, the base of the glacier retreated up the valley it created. Back then we had to climb up on the side to get onto the glacier. Now people go straight up at the base. There are several DOC signs: 'Danger, proceed no further' but everybody walked up right to the edge of it where it is actually pretty dangerous because huge blocks of ice can fall any time. I remember there were two helicopter flights a day back in 1993, now there are at least five choppers above the glacier at any time. Much busier in every respect. The American guy in Haast recommended some tracks around here, so from the parking lot near the glacier I turn into a small path. After ten minutes I see a French couple, but for the next three hours after that I see nobody on what was my best forest walk in New Zealand. I really like their trees, they are so different from ours. I had to cross the rivers that comes from the glacier a few times, luckily the bridges were all intact. Highly recommended walk.
At six there is free soup in the big kitchen of the hostel. I meet some people and later we are going out to a bar on the main street together.

9-Apr-2007: Haast to Fox glacier

Just one ride from a local to the town next to Fox glacier, which was less than an hour. I check into the Ivory Towers hostel ($22) It's really nice as it has kind of apartments with three bedrooms and a big living room. I walk towards the glacier which is about 3Km away. I doing a track halfway up the mountains on the right side of the valley at the end there is a nice platform with good views over the glacier. There I meet some American girls who study in Auckland. It seems this long Easter weekend all the Americans are coming out, normally I haven't met many. Sometime I have to cross small stream and there was one particularly tricky one to cross where it took me 12 minutes to find the right rocks to climb up to and jump onto. The whole group of people in my 'apartment' are cooking together in our own kitchen. We even invite some people who are staying in tents outside and don't have these facilities.

8-Apr-2007: Wanaka to Haast

I walk out of town to the junction with Highway 6, the main road up the west coast. I get a few short local rides including one lady that invites me to come along to walk with her wolves. I have a long way to go today so I decline, not being the biggest dog fan, I guess I'm not too comfortable with wolves either. I got a longer ride with two tourist. Beautiful stretch along Lake Hawea. There is hardly any traffic here but I decide to get off anyway and walk awhile to some beautiful river with a great swing bridge. After waiting for a while I walk along the road for 30 minutes and settle at a stunning spot with a great view over a valley. I wait over an hour here, there were about 20 days going in my direction during that period. Finally an Kiwi hippie couple picks me up, it's still Easter and they are going to visit their kids further north. We stop a few times along the road but I ride with them all the way to Haast the first small town on the other side of the Haast pass. Absolutely great landscape today, here I wish I had my own car and could've stay longer in some places.
I stay at the Wilderness Accommodation for $22 in a four bed share with two Dutch girls and an American hiker who runs around in his hiking underpants all the time. There is a group of about 15 German teenagers who are in New Zealand on a school trip. I talk to their teachers a bit. Gosh school trips to New Zealand, we were happy to get out of the country in tenth grade.

7-Apr-2007: Walking around Lake Wanaka

It is easter and the town is full of tourists. I walk along the shores of the lake for most of the day, really nice and quiet and much easier to walk than up to Ben Lommond. Listen to Kiwie music only on my iPod. Dinner at a Indian place in down. Still staying at Hollys.

6-Apr-2007: Queenstown to Wanaka

With the German girl in her car to Wanaka, not too far north of Queenstown. We stop a few time on the Gisbton Highway along the river. Around here all the jetboats are speeding along down in the gorges. Wanaka is much quieter than Queenstown but still has many tourist. Its on a lake as well and has mountains in the back too but it's not as breathtaking as Queentown. We check into Hollys backpackers ($21 dorm) and relax for most of the remaining day.

5 April 2007: Recovering in Queenstown

In the morning I'm taking it slowly, recovering from the previous day. I had talked to a German girl in my room and she asked me whether I would like to come along to Glenorchy at the very end of Lake Wakatipu. Queenstown sits in the middle of it. She has car, (it seems everybody but me has one) and the drive along the lake it beautiful. Glenorchy is very small and quiet compared to Queenstown, we have coffee and cake in one of the few places there and the head back. We also cook dinner together at the hostel, how embarrassing that I can't remember her name.

4 April 2007: Climbing up Ben Lommond

Based of my reviews of different tracks in the DOC office, I made the decision to try to get to Ben Lommond, a mountain above Queenstown. The weather is great and my day pack full with food and water. I leave before 8 to get an early start. Queenstown is about 330m above sea level and the peak of Ben Lommond is 1788m high, so it would be quite a walk. On the way I pass by the base station of the cable car (The Skyline Gondola) which transports tourists up to the top of the first hill about 880m high. Looking at the prices for it and my own pride I decide not to take it and start walking up the steep path through the forest. I am crossing a mountain bike track which comes down and the top and occasional I see mountain bikers coming down. Totally crazy I would never do that. Maybe it's because I had some bike accidents in the mountains even on normal roads when I was young. Near the top end of the cable car are shops, restaurants and a Luge as well as the mandatory bungy jumping into a gorge. Queenstown is the outdoor activity capital of New Zealand, if not the world. After a breakfast break I continue uphill and leave the masses of people behind me. A bit further up is a spot where the Para gliders start their descent down into Queenstown. In 1993 I walked this far as well, but turn around back down from here, this time it just the start.
For the next six hours I would only meet 10 people, half of them on the peak itself. It is a gorgeous day and I am past the tree line, so I have great views in all directions which are getting better the higher I get up. The last 40 minutes I have to circle about the mountain to get to the top. It's pretty windy and chilly up here but with fantastic 360 degree views. Well worth the effort. Then starts the long way down, after a while me knees start to hurt as the walking down all the times puts a lot of stress on the joins. But even when I reach the cable car I didn't take it down, which I should've down as the last hour is really hard because both knees hurt.
What a great walk but I'm happy when I'm reaching the hostel and can get into my bed.

3 April 2007: To Queenstown

I get a lift from an Israeli guy who was also staying in my hostel. He takes me all the way to Queenstown which is in a spectacular location and the ride there is fantastic too. Queenstown was my southernmost point back in 1993 and it was already very touristy then but now it feels much bigger and more crowded, very different from the quietness of Milford Sound. I check several hostels but they are all full, I finally end up in the Flaming Kiwi backpackers for $20. It's not very central but also not far out and has big supermarkets near by. I look around town a little and check the local tramps in the DOC office.

2 April 2007: Last day Te Anau

During the five days in my dorm I met several people, quite a few of them are doing longer hikes, or as they call in New Zealand 'tramping'. I spend some time with a German woman and a young Danish bloke who has been hiking in Northern Burma before he came down here so we have a lot to talk about Burma. These guys go on walks for several days on the various tracks. They were preparing to do the Dusky which is an 84 km tramping track and one of the hardest in the area. It takes at least eight days to complete but they had to carry food for 12 or more days because sometimes the high water in the rivers prevents them from crossing them and there are no shops on the way. Actually there is pretty much nothing on the way except some huts where you can sleep. The New Zealand Department of Conservation, short DOC is managing these tracks as well as all national parks. I wouldn't mind doing one of these tracks one day, maybe not the Dusky, but right now I don't really have the equipment for it. I'm also not sure I want to eat dried food for ten days. I go to the Fiordland cinema and watch the only film they show there called Ata Whenue or Shadowland, which is all about the Fiordland National Park, mostly about parts you can only reach by helicopter. A really amazing flick.

1 Apr 2007: A cruise on Milford Sound

At breakfast I meet a young Israeli who also wants to hitch to Milford Sound, so we wait together and after just over an hour a local guy in an SUV stops. He is going climbing in the mountains but will drop us off before the Homer tunnel, about 12 km short of Milford. Soon the landscape changes from the flat plains around Te Anau to the very forresty and mountainous fiordland landscape. Some of the higher mountains have snow covered peaks, it is beautiful. We are to wait another 30 minutes at the tunnel but we have fantastic views over the valley and up to the snowy peaks. We see some of the big Kea birds. I ride with a Mexican/Bangladeshi couple and their baby from London. Through the 800 meter tunnel and then down to Milford Sound. I got on a small boat with just 13 other people. There are several bigger boats which are used by all the tourist buses. There are over 40 buses coming here every day. The cruise is great, the sound is just stunning, many waterfalls along the steep mountain sides. We go out all the way to the Tasman sea where it is a bit rough. The free tea in the closed cabin warms me after spending some time outside. Back on land I walk over to the beginning of the Milford track, but return to the car park to catch a lift back to Te Anau before it gets too late. There are several other people trying to hitch. I wait with two Canadian guys from 3 to 6 when they finally give up and walk to the Lodge a few Ks away. There are hardly any cars left on the parking lot and as this is the end of the road, there is no through-traffic. I give it another 30 minutes and finally a Dutch couple stops and gives me a lift. There are really nice and we all enjoy the great landscape back, unfortunately it gets dark about half way back to Te Anau. Because it's my birthday I have dinner with them at a Italian place and order the most expensive pizza they have. Regardless the waiting time this was a great day.

29-31 March 2007: In Te Anau

I met a two Germans with a car in the hostel and they give me a ride to Te Anau. The further we get away from Invercargill the more interesting the landscape gets. You can tell that you are getting into the mountainous area in the South West of the South Island. The whole south end of the West Coast is the Fiordland National Park, one of the most spectacular part of the country and mostly uninhabited. Te Anau on the shores of Lake Te Anau is the only town on the edge of the park and the gateway into it and Millford Sound, it's biggest tourist attraction. I'm checking into the Te Anau Lakefront Backpackers ($22) which I think is the biggest hostel I've been to in New Zealand with 137 beds in several buildings. The town is very touristy, lots of travel and tour agencies offering tours to Millford Sound. There are also bars and restaurants. This may become a second Queenstown, but it was still pretty quiet. I have a bit of a cold, not too bad but I want to be careful so I don't do much on the second day except walking along the lake for a few hours. Cheap as I am, I don't want to pay the $30 or so for the bus to Milford Sound, so on the 31st I am trying to do Autostop again. The problem is that there are indeed 42 buses going there every day, most of them from Queenstown with a stopover in Te Anau for breakfast. But of course coaches don't pick you up, and neither do the other tourist cars that go there. And so with very little local traffic I give up after two hours because I need several hours in the sound and still need to be able to hitch back and therefore set myself a time limit for the departure.

28-Mar-2007: Through the Catlins to Invercargill

There is hardly any traffic on the road, it takes 15 minutes between the first passing car and the second, but that one stops. Malcolm and Jane from north of Auckland, they are in their late 50s and on holiday on the South Island. I stay with them until the afternoon when we arrive in Invergargill, the southern-most city in New Zealand. We take the scenic route along the pacific coast and stop at two waterfalls, some beaches and several lookouts. There are nice people and I get to see all the major sights in the Catlins. It's a beautiful day again, we have our lunch in T-shirts at the top of a windy cliff, they weather is so much better than I expected. In Invercargill I check into the Southern Comfort backpackers which once again is a really nice hostel. I walk around town a bit but there is nothing special about it. Southern Cornfort $20 dorm

27-Mar-2007: Dunedin to Owaka

I take a public bus to Mosgiel outside the city and hitch a ride after 20 minutes. This first one is just 30K down the road. I haven't decided where to go and let someelse make the decision for me. The second driver goes a bit further but suggested to get off in Balclutha to get into a region called the Catlins Forest Park. A third ride gets me to Owaka, one of the main towns of the Catlins, but it's small and I wouldn't call it a town. I check the highest rated backpackers in the BBH booklet (Blowhole Backpackers $23 share) but there is no-one where. Per phone I get the door-code, I'm the only one not only in my room but in the whole hostel. I walk around the place a little bit but there is not much to see and I decide to go back to the hostel which I have to myself. Later in the afternoon an couple from Cornwell arrives. The rooms are really nice and when the owner comes around at 8 p.m. to collect the money we also lit up the fireplace in the common room.

26-Mar-2007: Last day in Dunedin

It's a holiday in the Dunedin area but some shops are open anyway. I buy a warm hat and socks at the huge charity shop and also give them two of my shirts including one I bought in Cambodia. It's a bit gray today so I spend some time in an Internet cafe to rip my new CDs to MP3s. The evening I spend at the hostel talking to Annabel again. I also watch the DVD of 'Scarfies' which is set up the road from the hostel in Dunedin. It's about 5 students squating in an old house. There are many images of Dunedin and the soundtrack is great, maybe the best ever. It has the Clean appearing in a pub-scene, also The Chills being played on the radio. Look Blue Go Purple's 'Cactus Cat' and several other Flying Nun bands.

25-Mar-2009: A lazy day in Dunedin

I walk around town, watch a small parade of people in 19 century clothes and spend some hours at the Otago museum. Back at the hostel I watch a parts of a Harry Potter film and talk for some hours to Annabel, an English letigation laywer, who now lives in Melbourne.

24-Mar-2009: In Port Chalmers

In the morning I move to a new backpackers, Hogwartz ($22) it's up the hill in a really nice spot with great views over the city. The building itself it great too, the rooms don't have bunk beds and lots of space and they owners are very friendly. At the concert the night before I had talked to a Francisca Griffin who used to be in Look Blue Go Purple, she sat in the first row just infront of me and I had already talked to her at the Penguin Club in Oamaru. Anyway she had mentioned that she would play solo at the habour fest in Port Chalmers, so after my relocation to Hogwartz I took the bus out to the port town which itself was pretty old but also had a modern but small container terminal right next to it. A huge German container ship was overtowering the town. There were some other musicians and Mrs. Griffin played a set with her guitar without many people taking notice. It was more a family day out thing. Arno and his friends showed up late and we spend some time together. I later explored the surroundings and took the bus back into town. Diner was at the hostel as usual.

23-Mar-2009: The Clean and The Chills in Dunedin

Today is the day of the big gig. Dunedin is having a heritage festival over the weekend with loads of events. One of them is the one why I am here today, the concert by Sneaky Feelings, The Clean and The Chill at the Regent Theatre right on the Octagon in the centre of town and just two blocks from my hostel. In the morning I walk over to the campus of the famous University of Otago. At noon I arrive at the Marama hall where Dr. Graeme Downes is giving a public lecture about what they here call the 'Dunedin Sound'. Graeme was and still is the singer and songwriter in another Flying Nun band The Verlaines, who unfortunately do not play tonight. "The iconic status of many Dunedin Sound songs has been confirmed by critics, reviewers and the record-buying public" says Downes during his lecture. I expected a bit more about the history of the time but he concentrated on the music itself, being a music lecturer at the university. So he goes through songs such as 'Ghosts' and 'Pink Frost' by The Chills and analyses the lyrics and song structures that go with them. As usual I never put that much thought into that music, I just liked it but it is interesting to hear this stuff. After the lecture Arno and I talk to Mr. Verlaine for a while. On the way back to the hostel I stop at Records Records another Dunedin institution which has been around for ever. It's actually a very small shop that doesn't have that much interesting stuff.
The Regent Theatre is an old victorian threatre, not at big as the ones in London but nice with balconies and booths on the sides. In addition to the three Flying Nun bands there are two more bands at the Resound event. The opener were a bunch of very loud kids I think called 'Gestalt Switch' which I didn't enjoy at all but represented the current Dunedin scene. Sneaky Feeling were alright but I didn't recognize many songs as I haven't listen to them in a long time. The Clean were good but not as good as the night before, the stage was just too big and the whole set up didn't work very well for them. The Chills however were fantastic. I had seen them in 1987 and 1990 both times in Germany and there were still great and seeing them here in their hometown as special for me. The last band was Mother Goose a 70s prog-rock bands from Dunedin I had luckily never heard of before. It seemed there were pretty popular back then and it was kind of reunion for them. It seem they pulled at least as many fans as the Flying Nun bands, which meant there were a good number of older people, even older than us 80s pop kids, but someone they also manage to attracted some young people. So it wasn't quite the Flying Nun concert I did expect, I got that the night before but it was certainly very entertaining.

22-Mar-2009: To Dunedin and on the Otago Peninsula

With Kartherine in her car south to Dunedin, we do some sightseeing and I check into the central backpackers ($20) which are indeed very central. Kath doesn't want to stay in town and as it is a beautiful day we write all the way to the end of the Otago peninsula takes about 60 minutes. We first watch some albatrosses which are truly amazing when they fly above your head. They hardly move their wings and look very majestic. I get along very well with Kartherine who is younger than I but also above 30. She decides to stay in a hostel on the peninsula in a very small quite place and we have a nice coffee in a local cafe before she drives me back into town. It turns out she knows the guys in the Wolfhounds, as she lived in the same area in North eash London at the time. We talk about staying together for a while but I want to stay a few more days in Dunedin and she wants to move on, so we never got back together. Great day though.

21-Mar-2009: Christchurch to Oamaru, The Clean

I take a bus to the outskirts and hitch south from there. I was in a similar spot 14 years ago on the way to Dunedin but never made it because I got a ride to Queenstown instead. Again the first car goes to Queenstown but the Australian driver lets me off at the fork of the road and without problems I make it to Omaru a town an hour north of Dunedin. The town isn't that big but it was some great old building all made of white limestone. Along with the gold limestone was what made the town rich back in the victorian days. I check in at the Empire Hotel backpackers for $17, the cheapest so far and I think the cheapest in the whole on New Zealand for me. It's zentral and clean but not the newest one. I walk around the town and up the hills and back through a big park, it rains most of the time but it's too bad. In the late afternoon I head out to see the Blue Penguins, there is a colony where you can go and see them every evening when they come ashore but it cost money to get in and so I decide to go for the free option, which is on the other side of the peninsula. Rather than taking a cab and go all around to the other side on the road I walk straight over the huge hill in the centre of it. On the way I meet an Australian guy who had the same idea. Some paths are closed and we climb over fences to keep in the general direction towards the penguin bay. After about an hour we decide to turn around, we are a bit lost and it is getting dark, even if we could make it to the animals we would have a hard time getting back. It looked all so close on the map. After dinner at the hostel I meet some other people including an English girl who's got a car and it going south tomorrow. Arno the guy from Liechtenstein had told that The Clean would play a gig on Oamaru today and I had bought a ticket for $10 earlier in the music shop on the main street. They played in a place called the Penguin club in the very old part of town near the docks. That club has a long history of shows by Flying Nun bands since 1980 and many people from Dunedin used to come up here and quite a few are here tonight as well. It's a small but nice indie club and you can feel the historic atmosphere inside. I was never the biggest Clean fan but I really enjoyed them here in this location. They also enjoyed themselves and it was a great show. I hung out with Arno and some of his local friends and also talked to Robert Scott and his wife, as the Bats are probably my favourite New Zealand band and of course Robert also plays in The Clean.

20-Mar-2009: On the Banks peninsula

I have booked a tour to Akaroa, an old French settlement on the Banks peninsula. I missed this part last time and knew it would be hard to hitch here because there is no through traffic. So bus with 16 people got me there and we also stopped at some nice spots on the way. From the centre of the round-shaped peninsula you have great views in all directions. I spend about 4 hours in the little quaint town before we headed back to Christchurch.

19-Mar-2009: Camera Shopping in Christchurch

I take a bus to an outer neighborhood to check out another photo shop. I kind of decided on a Panasonic model with 10 times zoom. The shop even has them on offer and I get the camera, a bag for it and a 1Gig memory card for 499 New Zealand dollars. I walk back to the hostel and after charging it for a while I walk around taking the first photos. Christchurch is a nice down, very English and they weather is great so I walk quite a bit today. I also make my first visit to Pack 'N' Save, a supermarket chain which is very cheap and looks like a bit warehouse. I do prefer the other big chain 'New World' they have better stuff but are more expensive. I also buy a new electric shaver as my old one is broken. I also pay a visit to a doctor because I need more medication for my thyrid gland condition. In Asia I could just buy the pills very cheap at a pharmacist, but in Australia and New Zealand I need a prescription so I had to pay 50 dollars to see a doctor. I was a bit afraid that they would required a blood test of something, but just listened to my story and wrote a prescription. Downstairs in the phamarcy I talked with the guy about the Flying Nun gig, he tells me he was a student in Dunedin in the eighties and really liked the stuff. Back at the hostel people having a party in the back yard, there are several tents where people are staying because it's even cheaper to camp.

18-Mar-2009: Lazy day in Christchurch

Sundays in urban New Zealand are a bit like the ones in Germany, most shops are closed. So I hang out at the hostel for a while. There are several German guys working in town, mostly carpenters. They are making good money here. In the afternoon I do some record shopping at Real Groovy, a chain of large stores with locations in all 4 big cities in New Zealand. I do remember another shop from my time in Christchurch in 1993 and it is still there. Just after I got there a heavey storm starts outside and I spend an hour at Galaxy Records on High Street. They are playing Kraftwerk's Computer World and I mention to the guy that I don't think I've ever heard that in English. I also haven't heard the German version for over 20 years and it brings back memories. Someone else makes a comment about the record and it turns out it is another Germany, Arno who now lives in Liechtenstein and is in the country for the Flying Nun gig as well.

17-Mar-2007: Kaikoura to Christchurch

I made half a dozen of sandwiches to use up all the ham, tomatoes and lattuce I had bought and had still some bread left for toast. After breakfast I walked over to the State Highway 1, not far from the hostel. I walk up a hill a bit to get a good spot for stopping cars. After seven minutes an old Gentleman in an SUV stops. He goes all the way to Christchurch, my destination for today. I'm really glad I'm doing this hitching thing. It's a great way to meet local people. Next to the road are the railway tracks and he tells me that his father and grandfather were building these and the tunnels for it. He also points out hills and forests where he used to go hunting as a boy. A tourist camp on the way is run by his brother and he was all this little stories about some farms in the area. He is also a bagpipe player since he was a boy and has his pipe in the back of the car. He is going to his granddaughter's first birthday and usually his family is expecting him to play something. We even listen to some bagpipe music from a tape. He drops me off in a suburb and I am taking a local bus to the Cathedral square in the city center. I have some of the sandwiches and then walk around to find a hostel. The first one I check is full but the second one has room, it's not very central but pretty quiet. Later I see several others that are closer to the centre but they are all more expensive. I pay $21. I walk around town in search for a new camera. Mine finally stopped working and this time I don't have any hope for a recovery. I check out some small shops and then use a computer in the library to search online. They only allow some news sites and any .nz sites but that's good enough. I find a shop and walk over there. I still have a hard time deciding for a model and postpone the purchase until Monday morning. Back to the hostel where I just hang out. Even though it is St.Patrick Day, I don't feel like drinking today. Around The World backpackers $22 share

15-Mar-2007: Blenheim to Kaikoura

Beautiful weather today, I'm trying to hitch for 45 minutes but the traffic is mostly local and the trucks don't stop. Because I want to arrive at my next stop Kaikoura early and don't want to waste too much time on the side of the road I decide to take a coach, so I walk back to the railway station to catch the 10:15 one ($23). It's a beautiful landscape, the pacific on the left and hills a mountains on the right. I check into a hostel with sea view from it's big balcony. My concerns about not getting a bed here were unfounded. I decided to buy a BBH backpackers card for $40 because it saves me $3 each night in BBH hostels and there are hundreds of them in the country, it also comes with a $20 phone card. Now I pay only $20 for the dorm bed and again it's a nice and clean hostel. The town is famous for whale and dolphin watching but it's location on a peninsula is great by itself. It had snowed the day before and the mountain tops in the background where covered in snow. Add blue skies and the pacific blue water, I could look at this picture for hours. I do a walk for 3.5 hours around the coast to a seal colony and then over the hills all around the peninsula. When I'm back at the hostel, I'm pretty tired but still walk a long way to the supermarket at the other end of the town. Listen to Harry Potter 5 in my bed. Sleepywale Lodge $22 share

14-Mar-2007: Picton to Blenheim

After breakfast at the hostel I walk to the edge of the town to hitch. A Canadian couple I know from my hostel arrives 10 minutes after me but waits 100 closer to the town and gets the first lift. I have to wait another 20 minutes for a ride to the next town which is Blenheim. I didn't really plan to hitch hike on this trip but I remembered last time I've been here it was the only time I really met any local people and had time to talk to them. When we arrive in Blenheim it starts to rain and I wait a while in the tourist information at the railway station and then walk towards the other side of town to catch another ride further south. The rain gets worse and I take cover under a rood of a big bathroom store. The rain doesn't stop but I see a sign for a backpackers and decide to check in there. The clouds are really low and visibility bad, I don't want to go through the nice landscape without being able to see it. I eat some of my sandwiches for lunch and by that time the rain had stopped and it's sunny again. So I explore the town for a while. I check 'The Warehouse' a Walmart type shop for some cheap clothes but their cheap fleeces don't look very good. I then ask at a pharmacy for Thyroxine, a medication I have to take every day and of which I'm running out. In Asia I could just buy it at the pharmacy, but here I need a prescription. I talk to the nurse at a medical center around the corner but decide to see a doctor in Christchurch. Consultation fees plus probably a blood test, that wont be cheap. I buy two guide books at a second hand book shop. A general New Zealand one in English ($5) and a German one about great New Zealand walks and treks ($2.50). At a charity shop I find a nice 'National Geographic' fleece for $5. However today they have a $5 bag sale which means all you can fit into a medium size plastic bag is just 5 dollars, they don't do this in London, but I remember book sales in the US like that and also clothing sales by the kilo. So I through in another shirt but as they don't have any gloves, warm socks or hats I leave my back half empty. I will have a hard time fitting all these new things into my bag anyway. I buy soup and bread for dinner. Back in the hostel I meet a guy from Chicago, a Canadian girl from Sydney and the Dutch girl with her guitar from my ferry who was the best looking person on the boat. She is in the top of my bunk bed. We watch 'Lost' together. Koanui Lodge $19

13-Mar-2007: Ferry to Pickton on the South Island

Because the breakfast cafe only opens at 7, the same time I have to check in at the ferry terminal, I skip the prepaid breakfast and just buy some scones and fruit in the New World supermarket in the station. We actually don't start boarding until ten to eight and it would have been no problem for me to have a nice breakfast in the hostel. We have to walk through the car and trucks to get to the stairs up to the passenger decks on the ferry. The Blueridge ferries used to be freight only but they decided to carry foot passengers as well and they are $20 cheaper than the InterIslander ferries. The sea is calm but it is raining every half hour for 15 minutes. Sometimes the sun comes out for a while and we can enjoy the views in Marlborough sound during the last hour of our crossing. During the rain I'm watching a computer animated film about a boy shrunk to the size of ants to live in an ant colony. We arrive in Picton on the South Island around 12:30, I check into a backpackers near the docks for $21, it's a nice place. A South Korean guy in my room is a bit weird. There is a huge map of the world in the hall way with pins stuck into the places where previous travellers are from. He takes the dozen or so Korean pins out and puts them into random places around the world to leave just he own pin in South Korea. Later in the kitchen I see a cup of yoghurt just like the one I had just bought on his table. I check my bag in the fridge and it's gone! I take it back while he is not watching and hide my bag in the back of the fridge. He also picks food from various places in the kitchen, but I'm not saying anything yet. Later different people complain that some of their food is missing, exactly the things he was using earlier. The warden then confronts him but he doesn't seem to understand any English. Luckily there is another Korean guy and he translates. Our friend thought all the food in the kitchen was free, and even though that's a stupid excuse I do believe him because he was too blatant for a thief. I chat to a couple from Northern Queensland for a while. I walk for about 2 hours along the bay and up a hill with nice hours over the Picton hours. I do a bit of shopping and find some nice German rye bread, so I also buy cheese, tomatoes, cucumber and lettuce to have a nice traditional German dinner. We are watching Lord Of The Rings 2 and some people point out the actual locations during the scenes. Vip backpackers

12-Mar-2007: Sightseeing in Wellington

With Jay by train to Wellington, we say goodbye at the railway station as he has to go to work, it's Monday today. I check into the Downtown backpacker just opposite the station, the same place I stayed when I first came to Wellington in 1993. I pay $24 for a four bed dorm with en suite bathroom, it's clean too, much better value than the big city hostels in Australia. There is actually a $28 dollar deal which includes a full breakfast so I'm doing that instead. I walk around the centre for a while looking for a cheap guide book and check out some record shops. Real Groovy has some good $1 cheapos like the 'Language Of Flowers' CD or one of the 'Saturday People" albums. They also have lots of vinyl. Another shop on Cuba Street has the better selection of New Zealand stuff though. I have a break at the hostel and then do a one hour tour of the parliament buildings including the famous Beehive, it's quite interesting and the house of representatives looks is very similar to the house of commons in London, just smaller. They have a speaker and the governing party always sits on his right. Both the speaker and the prime minister are female at this time. I do more walking in the city and up some hills towards to top station of the cable car. But I'm too tired to go all the way up and return to the hostel where I meet some of my room mates, an English cyclist and a young guy from Zurich. I have a shower and get ready for dinner for which I'm meeting up with another local Pamela, I know Pammi from working with her on the BP Helios websites for three years while we both lived in London. She worked for BP seven years, after she got married to an English guy they decided to move back here to her home town, Isabel, my project manager at the time always said I have a crush on Pammi, but I'm not sure how right she was in this, I surely liked her. Anyway, Pammi picks me up a the hostel in her huge SUV. We have dinner in a nice Thai/Indian restaurant in a street with dozens of eateries and bars. We talk about our time in London, travelling and her life after BP. I do really enjoy her company and she also picks up the bill. I walk back to the hostel along the waterfront because it's a nice evening.

11-Mar-2007: With Jay and Chie in Lower Hutt

After a late breakfast Jay drives me to the start of a nearby hiking trail. The Hutt valley is surrounded by many hills and I want to get up there. It's a very steep ascend, the hills are nealry completely covered in bushes with yellow blossoms, which look very pretty from the distance but are actually very thorny when you are right next to them. I walk on the rim of the range for 40 minutes until I get to the last hill before the bay. Great views from here, you can even see two mountains on the South Island. The descend is even steeper than the way up. The path kind of ends and I have to squeeze myself through those bushes which is not pleasant because of the thorns and the fact that I don't have long sleeves. My thin travel pants don't protect my legs much either. It's just a slope downhill now where the rain water goes down, it's not a walking path anymore. I slipe twice on the gravel but luckily manage to hold on to some rocks, you don't want to touch those bushes. Further down I'm getting into a forested area and find a proper trek again but neither my map nor the sign-posting is very good and I take a wrong turn twice but eventually make it out of there and back to the house.
After some sandwiches for lunch Jay, Sakura and I drive to the town centry to look for some clothes for me. At a big 2nd hand clothes shop I check some fleece tops but didn't buy anything. We do buy a red dress for Sakura though. I then spend some time in the Queensgate shopping mall and walk back home. There I play soccer with Sakura and Jay in the front yard. Sakura is now much more open, talks to me and wants to play with me. Later I read some of her books to her. We have an Indian curry for dinner. I copy my music MP3s to their PC and rip some of their CDs to MP3s and copy them onto my hard-disk. Some Flippers Guitar albums I didn't have and also some New Zealand stuff including everything by the Chills which I want to listen to before seeing them in Dunedin next week. We also watch some Flippers Guitar videos from the 80s.