1-May-2006: Still on Phi Phi island

It's my sixth day on Phi Phi island on the east coast of southern Thailand. These parts were severely hit by the boxing day tsunami in 2004 but now there is hardly any evidence of it. Many buildings were destroyed and the water was about 2m high in all parts of the only village on the island. One effect of this that all computers in the internet cafes were damaged and had to be replaced with new ones. At some places they have before/after Tsunami photos and I'm glad I wasn't here on that day. The Phi Phi actually consist of two bigger and a handful small islands but only one of them is inhabited and has only one little town which is completely dedicated to tourism. I haven't been to the bigger island Phuket in the north were they have even more tourists, but Phi Phi has enough of them and this is the beginning of the low season. The center of the town is your typical backpackers ghetto, restaurants, bars, internet cafes, travel agencies and here also many diving shops as diving and snorkeling is very popular around here. Rather than the usual guest houses people stay in small bungalow huts in what they call resorts. I myself stay at the Gypsy village 1 which is just a number of basic some bungalows, I wouldn't really call that a resort. Other places on the other hand have swimming pools, shops and restaurants. The beaches around the town are nice enough even though the water is not cold enough to be really refreshing. Have a look at some photos of the coastline, it's quite nice and the little bays are lovely but you can only get there by boat. Because it's pretty hot during the day I spend most at my time at a PC in an internet cafe close by. I fixed their network and set up a printer on my first day and can use their equipment for free since then. So I have set myself up with a web and database server and can do pretty much all the work I could do at home. Because I haven't really been doing any IT related work since August 2005 I'm a bit of the loop and there are many new things happening out in the Web 2.0 world, there is a lot of stuff to catch up with. I also did some work on my travelog. My 'resort' is at the end of the town in an area where mostly locals live. So I have coffee and dessert at a small Muslim shop at the corner and my lunches and dinners at a food stall where every dish including nice spicy curries are only 40 Bath (about US$1). Both accommodation and food is more expensive here than on the mainland and eating and especially drinking at the tourist places is expensive. So I have a basic but cheap bungalow, free computer access, a nice beach, cheap local food and great views from the shores. Social life is limited to talk to the young Muslim girls working at the internet cafe and a lesbian Swiss couple in the bungalow next door. I've done a day trip on a boat around the island with canoeing, swimming and snorkeling which was really nice. I haven't done any proper snorkeling before and seeing all the corals and colourful fish right there is pretty amazing. I also did a day trip with a canoe to some of the beaches in secluded bays, that's was really nice too but it's gets so hot during the day that I spend more time in the water pushing the boat than sitting inside it paddling.

Some other random observations:
I have never seen that many blond people outside of Scandinavia, German on the other hand are rare, apparently they like it quieter
The are no cars or road on the island, so the local use bicycles, they never lock them though, because stealing them would be a bad idea on such a small island.
25-Apr-2006: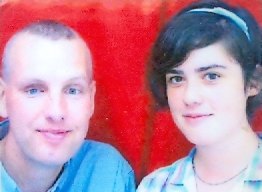 Back from Loas to Thailand where we spend our last days together before Olivia had to fly back to Seattle. We didn't do that much in Bangkok except eating out and moving from one guest house into another. We even manage to eat out German, something we had wanted to do for months. I spend a few extra days in Bangkok on my own, doing some more sightseeing but also spend some time online. I then took the night train down south and spend some days in the Khao Sok National park, which was quiet and peaceful after the big city.