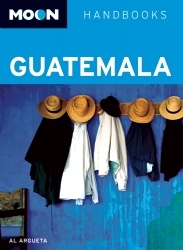 27-Feb-2009: From Xela to Guatemala City

I left Xela after 11 nights, to catch the bus to Guatemala City I needed to go to the bus terminal, a 30 minute walk. But as I knew how the chicken buses work, I just walked a few blocks to the road to Guatemala City and waited for the next bus there. Hopping on like this has the advantage that I can take my bag inside the bus, rather than having it on the roof. When I take out my clothes bag out of my backpack, both bags fit right into the overhead compartments of the old school buses. There is no space on the seats as there are already three people on each two seater bench plus people in the aisle as well.

The four hour bus ride on the Pan Americana was alright, great views of several volcanoes left and right, but the air wasn't very good as the open windows let in the fumes from other buses and dust from the road. I arrived in Guatemala City around noon and turning down the plentiful others for taxis I took on of the new TransMetro buses into Zona 1 where I planned to stay. Like in Mexico City, these buses have their own dedicated lanes in the centre of main avenues with enclosed bus stops. They also have some security personal on the bus and all stations and felt very safe. I checked into the Hotel Fenix and got the cheaper room without private path and TV to save 2 Euros. I then took as normal city bus to the shopping and restaurant Zone 10 to do some shopping. My Moon handbook guide lists the outdoor adventure shop 'Big Mountain'. I needed new trousers because they stole my second pair on New Years Eve in Mexico and also new walking shoes, as mine are all worn out. The store was small but I manage to find some nice Columbia travel pants for 470 Quetzal (47 Euros). They only had two different shops but both only in small sizes. I then walked back to the hotel, a good 90 minute walk in rush hour central Guatemala. I quite like it here, it is a big city with interesting diverse neighborhoods. There is the old town, the rich shopping area, the embassy area, government buildings. I guess I just like big cities, loud and dirty, just like home in London. It may as well be my favourite Guatemalan town.

1-Mar-2009: Summary for Guatemala

Guatemala, I hardly knew anything about this country before this trip except for some history as a Banana republic and the long bloody civil war. In Mexico I learned about the Mayan ruins at Tikal, the tourist town of Antigua and a beautiful lake surrounded by volcanoes. I spent 48 days in the country but only stayed in six different towns, which gives it a high days per town ratio.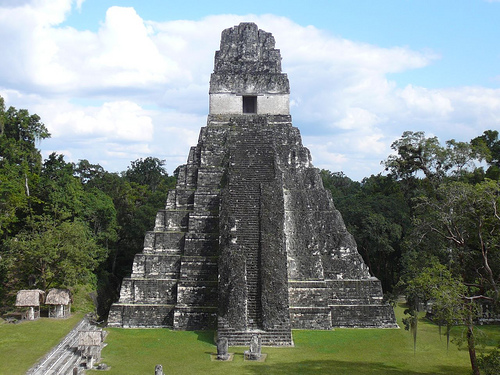 Over all I would say I was pretty lazy, take the first week. It started to rain when I arrived in Flores from Belize and it continued to rain on and off for six days. So I just stayed at the Amigo hostel for the whole week, doing nothing but reading, eating and meeting people. The town is on a small Island on a big lake but there wasn't much to do while everything was wet. Fortunately the hostel and it's food was really good. On the 7th day I finally made it to Tikal and had a beautiful sunny day out at the ruins which overall are my favourite of the eight Mayan sites I visited. The site is big and there any many different temples to explore. The entrance fee was five times as much (150Q) as the ones in Mexico but at least when I visited there were hardly any people around and I had some temples for myself. I was also surprised how non-commercial it was, no vendors on site and just two lone ladies setting stuff next to the parking lot. The Mexican sites were full of people selling all kinds of things. I really enjoyed walking through the jungle and decided to join a group of people to walk to another set of ruins up north. They are called El Mirador and are so remote that you can only get there by helicopter (US$ 4000) or by walking three days through the jungle. We were a group of six, two young America guys, a French-Canadian couple, an Englishman living in France and me. Our local guide was walking with us, but the cook and second guide were riding with the six mules that were carrying food, water and our bags. The whole trip lasted six days with five overnight stays at camps near different ruins. The handful of people staying at these camps were there to guard the ruins against robbers and had to stay in the camps for six months before getting some months off.
Everybody talked about a six day jungle walk, but in reality we followed a more of less muddy path through normal forest and it wasn't super exciting, we didn't see any big animals except birds and big spiders. There was plenty of food and it was good enough but at night it became pretty cold and we were all freezing in our hammocks with just a thin blanked covering us. Being away 50 km from the closest electricity meant however, that the stars were absolutely amazing. The Howler Monkeys up in the trees were extreme loud, especially early in the morning.
The El Mirador ruins looked mostly just like big hills covered in dense forest. Some of them are currently excavated and we could see the proper temples. Is was interesting seeing some archaeological work in progress, but it was far less impressive than Tikal. Nevertheless, it was an interesting experience and the first shower after coming back to civilization was pure heaven.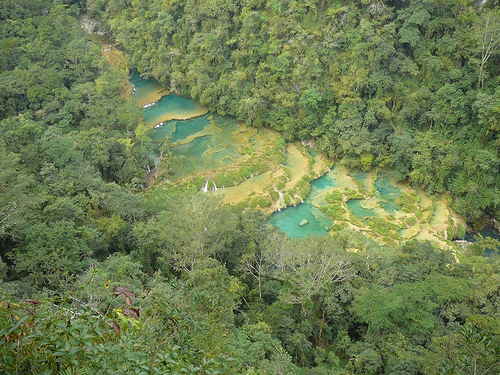 The next stop was a little village named Lanquin where I stay at the El Retiro hotel, a great place with little huts and good food on the banks of a mountain river. Swimming in the strong current was a lot of fun and very refreshing. In the evening people walk over to the local cave which is interesting in itself but people come here to watch millions of bats flying out of it at sunset, it is a pretty awesome sight. Nearby are more caves and the natural pools of Semuc Champey where a river flows partly underground and partly through beautiful pools with little waterfalls. The views down from a nearby mountain are gorgeous.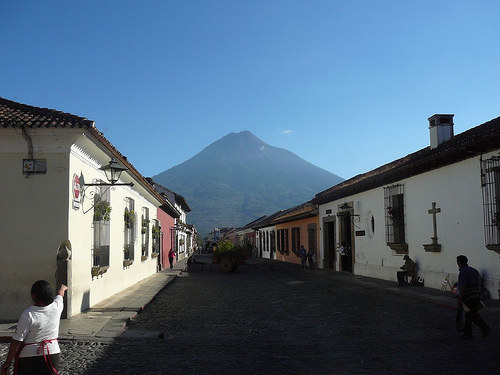 On to Anigua, the old capital and most popular tourist town in the country. It is touristy for a reason, it is just beautiful with all the old houses and a huge volcano towering over it. Here I met up with Aura, a local woman in her thirties who was recommended to me as a good Spanish teacher by a fellow traveller. I had picked up a few words of Spanish in Mexico but didn't understand anything when the locals would talk to me. I had no plans to be learn perfect Spanish but wanted to be able to do the basics while travelling. We met two hours in the morning and another two hours in the afternoon, either in one of the many Spanish schools, a cafe or a park. I hadn't learned a new language since Latin in the early 80s and I was reminded by Spanish why I didn't like Latin back then. All the different forms of verbs and adjectives, English is so much easier. But I liked learning Spanish anyway and it feels good to be able to speak it, even only a little bit. I took lessons for 10 days and after that I was able to understand much more and could even talk a bit. But at that point I needed a break to reflect on what I have learned. After a few days in a hostel I moved into a room in a private house, this was not only cheaper at 60Q (6 Euro) a day, it also including three meals a day and gave me the opportunity to practice my Spanish. A one hour lesson cost me 3.75 Euros, not the cheapest rate in the country but worth it. Aura spoke good English which was very helpful especially during the first days.

From Antigua I went on a day trip to volcano Pacaya, there are several volcanoes around the town, some of them active but most of them very hard to climb during one day. Pacaya is very popular because it is easy to get to and to climb up to a stream of fluid hot lava. This was an amazing sight but also a bit dangerous, several people melted the soles of their shoes just standing close to the lava. Even when being a few meters away when I dropped a paper handkerchief to the ground, it started to burn right away.

Next stop was the beautiful lake Atitlan, surrounded by mountains and three volcanoes. I stayed a few days in San Pedro la laguna, but avoided the backpacker ghetto there whenever possible. I did some hikes along the lake but didn't get up to the top of any volcanoes. A great place to just hang out.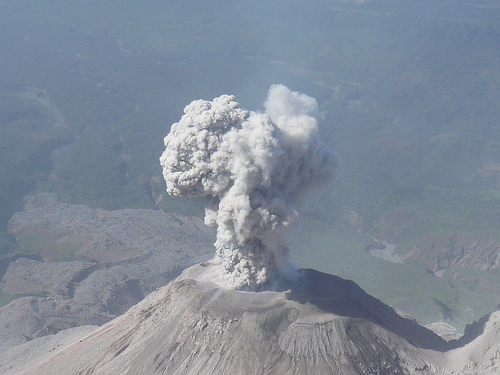 On to Quetzaltenango or Xela for short, the second biggest city in Guatemala, it felt like the first proper city and not like a tourist town. I spent eleven nights in the Blackcat hostel which was nice enough and offered a huge free breakfast. While waiting for my tour to start and recovering from it, I spent some time in a cheap and fast internet cafe to program a little and play with the Windows 7 beta which I downloaded and installed on a virtual machine. In a normal cybercafe the bandwith and PC memory would have not allowed this. One day I hired a bike and with fellow German Max cycled to the hot spring of Fuentes Georinas up in the mountains. A pretty tough ride but swimming in the hot water pools in the clouds made it worth it. The second trip from Xela was up to the 3772 meters high volcano Santa Mario, we started at about 2400m and it is a pretty steep hike up to the top. The views from the peak are spectacular. You can see Mexico, the Pacific Ocean, Lake Atitlan and the volcanoes around Antique over a hundred miles away. The best sight however is volcano Santiaguito just next to Santa Maria but 1300 meters lower. It erupts every two hours in the morning and has the only eruption in the world which can be viewed from above. After that I could hardly walk for a few days, coming down the steep slopes is not good for your legs.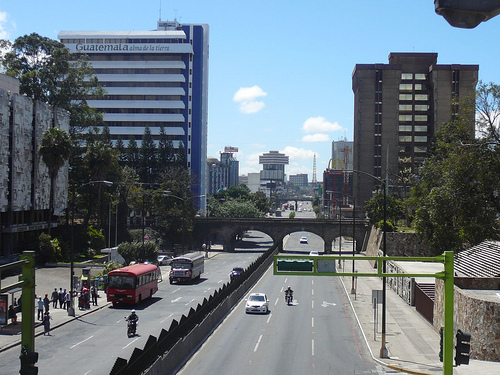 The final stop in the country was in the capital Guatemala City or Guate, with 3.2 million people, it is the biggest city in Central America. Most tourist only use the airport or changing buses but I wanted to get a feeling for the 'real' Guatemala. I stayed in the old center and walked around town for two days and did some shopping. There aren't many sights and it is loud, dirty and crowded but I liked it. This is how I expected big Latin American cities to be. There was a nice cosmopolitan feeling in the Zona Viva, and the caotic mess of the other inner city parts, plus the suburbs which are either slums or gated communities for the rich. Once again, I couldn't confirm reports of the poor safety records. They say don't use local buses, you get robbed or shot, but they seemed perfectly fine to me. I didn't try my luck at night though.

So Guatemala has lots to offer and even after seven weeks, I only saw a fraction of it. Some things where cheaper than in Mexico, but surprisingly some things like most food were more expensive. I definitely recommend a visit.

13-Jan-2009: San Ingnacio to Flores (Flores, Guatemala)

14-Jan-2009: Rainy day in the hostel in Flores (Flores, Guatemala)

15-Jan-2009: Paperwork in Flores (Flores, Guatemala)

16-Jan-2009: Another rainy day in Flores (Flores, Guatemala)

17-Jan-2009: Getting tired of the continues rain in Flores (Flores, Guatemala)

18-Jan-2009: First sunny day in Guatemala (Flores, Guatemala)

19-Jan-2009: Fantastic day at the Maja ruins of Tikal (Flores, Guatemala)

20-Jan-2009: Bus to La Carmelita, then hike to camp El Tintal (Camp El Tintal, Guatemala)

21-Jan-2009: Hike from El Tintal to the ruins of El Mirador (El Mirador, Guatemala)

22-Jan-2009: At the ruins of El Mirador (El Mirador, Guatemala)

23-Jan-2009: From El Mirador to the ruins of Nakbe (Nakbe, Guatemala)

24-Jan-2009: 9 hour hike from Nakbe to La Florida (La Florida, Guatemala)

25-Jan-2009: Hike to La Carmelita and back to Flores (Flores, Guatemala)

26-Jan-2009: Laundry and Internet day in Flores (Flores, Guatemala)

27-Jan-2009: Flores to Lanquin (Lanquin, Guatemala)

28-Jan-2009: Lazy day at the river in Lanquin (Lanquin, Guatemala)

29-Jan-2009: At the pools of Semuc Champey and the caves in Lanquin (Lanquin, Guatemala)

30-Jan-2009: Recovering in Lanquin (Lanquin, Guatemala)

31-Jan-2009: Rainy day in Lanquin (Lanquin, Guatemala)

1-Feb-2009: Lanquin to Antigua (Antigua, Guatemala)

2-Feb-2009: My first Spanish lessons (Antigua, Guatemala)

3-Feb-2009: Learning my first regular verbs in Spanish (Antigua, Guatemala)

4-Feb-2009: Spanish lessons with local teacher Aura (Antigua, Guatemala)

5-Feb-2009: Moved into private house to stay with a family (Antigua, Guatemala)

6-Feb-2009: Fifth day of lessons with Aura (Antigua, Guatemala)

7-Feb-2009: Lazy Saturday and doing some homework (Antigua, Guatemala)

8-Feb-2009: Hanging out and Spanish homework (Antigua, Guatemala)

9-Feb-2009: More Spanish classes in Antigua (Antigua, Guatemala)

10-Feb-2009: Watching lava on volcano Pacaya (Antigua, Guatemala)

11-Feb-2009: Sightseeing in Antigua and last class with Aura (Antigua, Guatemala)

12-Feb-2009: Antigua to San Pedro la Laguna (San Pedro la Laguna, Guatemala)

13-Feb-2009: Walking along the shores of Lake Atitlan (San Pedro la Laguna, Guatemala)

14-Feb-2009: Spanish homework in San Pedro (San Pedro la Laguna, Guatemala)

15-Feb-2009: Market day in San Pedro (San Pedro la Laguna, Guatemala)

16-Feb-2009: San Pedro to Xela (Quetzaltenango, Guatemala)

17-Feb-2009: Orientation day in Quetzaltenango (Xela) (Quetzaltenango, Guatemala)

18-Feb-2009: Online day in Quetzaltenango (Quetzaltenango, Guatemala)

19-Feb-2009: Cycled to the hot springs in the mountains with Max (Quetzaltenango, Guatemala)

20-Feb-2009: Recovering from the bike ride yesterday (Quetzaltenango, Guatemala)

21-Feb-2009: coding with the Twitter API in Xela, Guatemala (Quetzaltenango, Guatemala)

22-Feb-2009: Lazy day in Xela talking to interesting Texan woman (Quetzaltenango, Guatemala)

23-Feb-2009: Tough hike up to the Santa Maria volcano, 3770 meters (Quetzaltenango, Guatemala)

24-Feb-2009: Recovering from major hike, downloading Win7 (Quetzaltenango, Guatemala)

25-Feb-2009: Still suffering from muscle ache and playing with Windows 7 (Quetzaltenango, Guatemala)

26-Feb-2009: Writing travelog and fixing web site problems. (Quetzaltenango, Guatemala)

27-Feb-2009: From Xela to Guatemala City (Guatemala City, Guatemala)

28-Feb-2009: In the shopping malls of Guatemala City (Guatemala City, Guatemala)

1-Mar-2009: Summary for Guatemala (Summary for Guatemala, Guatemala)

1-Mar-2009: Museum day in Guatemala City (Guatemala City, Guatemala)