17-Mar-2009: Summary for Honduras

Honduras felt similar to El Salvador and Guatemala, I didn't even bother with their biggest tourist attraction Copan, because it is another Maya ruin, and I had enough of those. Instead I considered learning diving on the bay islands in the Caribbean Sea.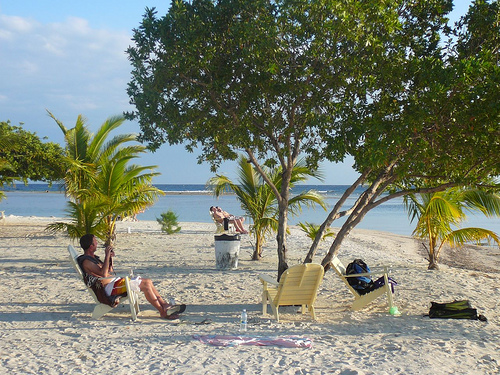 Most of the first day I spend on the bus from the El Salvadorian border to San Pedro Sula, the second biggest city in the country. There wasn't much to see there and I moved on the next morning. Joining me was Giovanni from Sicily who spoke good Spanish with a strong Italian accent. His English wasn't very good, so we mostly spoke Spanish with each other, which was good practice for me. The boat ride from the coastal town of La Ceiba to the island of Utila was rough. The sea was pretty tough and the waves we hit swept lots of water into the boat and against the windows. The folks in the front got really wet and several people got sick. I didn't feel that good myself but had taken some motion sickness pills, so I was alright. Utila and its bigger neighbour Roatan are popular for good but cheap diving. When we got off the boat in Utila town, dozens of touts from the various diving schools tried to interest us for their courses and their associated guest houses. We ended up in the Mango Inn, one of the best hotels on the island; it was very clean and had a nice pool in a big garden. If you take a dive course you can stay in the dorms for free, otherwise it is 3 dollars for the first night and 10 each for the following nights, which was still a good deal for one of the best hotels I stayed in so far on the trip. I was thinking about taking the Open Water diving course but in the end decided against it. It wasn't so much the 250 dollar price tag but the costs for additional dives further along the road. I could have been convinced by a good diver partner whom I couldn't find, despite the fact that hundreds of people are learning there.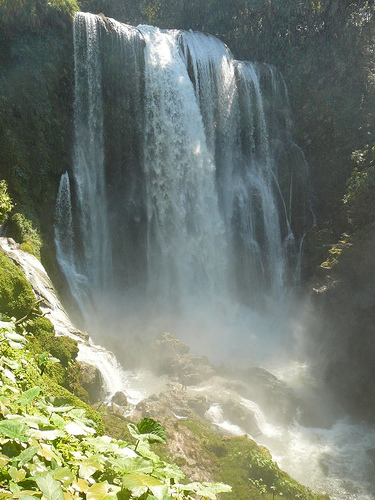 The snorkelling I did for several days was great and was good enough for my underwater experience needs. I just had to walk a little bit away from the town along the coast, the reef with nice corals and plenty of fish was right there in walking/swimming distance. Sometimes I could see the divers below me and swim through their ascending bubbles. There was a steep reef wall next to the old light house and sometimes I felt it would be nice to get further down, but I saw a lot from the surface. Even though the snorkelling was fine, the beaches weren't that great, but after I burned myself on the first beach day I didn't spend too much time in the sun anyway.

Back on the mainland I stayed a night in La Ceiba and took a trip into the nearby mountains to do some white water rafting. At 40 US$ it was pretty expensive for a 4 hour tour but I felt like doing it. During my last rafting on Bali I did fell out of the raft but I no intentions to do so this time. Besides me there was a Canadian mother and daughter and an older guy from the US in my raft. It was pretty good rafting with many 3, 4 and even class 5 rapids and the Cangrejal river is worth the trip even without any rafting.

My next stop was in the central hills of the Santa Barbara province, rather than taking the easy way using two big buses with one change in San Pedro Sulu, I decided to take the 'shorter' way and took 5 different chicken buses, even then I ended up in the middle of nowhere and a guy on a motorbike gave me a ride for 30 minutes. With my big backpack on a bumpy dirt road it didn't feel very safe, but I made it and it was fun. I got two more free rides that day without even asking for it. On the way to the guest house near Pena Blanca, I stopped at the Pulapanzak Water Falls which was pretty impressive. It was Sunday afternoon and many local tourists came out for a swim in the pools above the falls. There was a strong current and one had to be careful not to swim too close to the edge, as dropping 43 meters down the falls is not recommended.

My last stop in Honduras was in the capital Tegucigalpa, which is not popular with tourist but was on the way to Nicaragua. Plus I always like to visit the capital city, even if it is just for a day. My main task was to send my broken iPod to the States to get it fixed by Apple, but when even the cheapest DHL, Fedex or UPS service was still 120 dollars I decided to send it by normal express mail.

My favourite thing in Honduras were "Baleadas", wheat flour tortillas folded in half and filled with beans, crumbled cheese and sour cream. The deluxe versions add with other ingredients such as beef, chicken or pork. I had at least one Baleadas a day, just delicious.

9-Mar-2009: La Palma to San Pedro Sula (San Pedro Sula, Honduras)

10-Mar-2009: San Pedro Sula to Utila (Bay Islands) (Utila, Honduras)

11-Mar-2009: Getting sunburned on the beach on Utila (Utila, Honduras)

12-Mar-2009: Great snorkeling along the reef of Utila (Utila, Honduras)

13-Mar-2009: Great snorkeling at the Lighthouse reef (Utila, Honduras)

14-Mar-2009: White Water Rafting near La Ceiba (La Ceiba, Honduras)

15-Mar-2009: La Ceiba to Pena Blanca (Pena Blanca, Honduras)

16-Mar-2009: Pena Blanca to Tegucigalpa (Tegucigalpa, Honduras)

17-Mar-2009: Summary for Honduras (Summary for Honduras, Honduras)