16-Oct-2008: First days in Mexico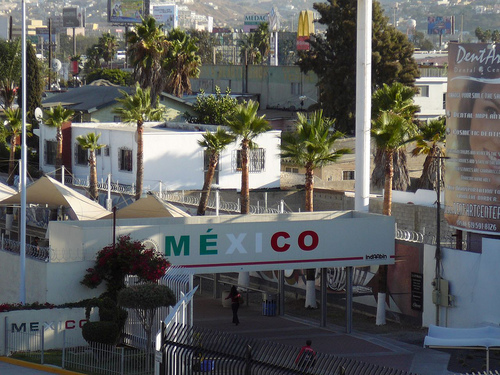 After three nights in a hostel in the Gas-lamp district in downtown San Diego, I decided to head south into Mexico. I had a message on the notice board looking for other people travelling south too, but nobody responded. There were two English Girls going to Mexico City, but I didn't want to go that far yet.
I had looked into different places where to cross the border but in the end non of the Mexican border towns looked very inviting. So Tijuana was the easiest to get to. From downtown San Diego, I just took the Blue line trolley to the "international border" (are there any non-international ones?) The trolley is a mix of a tram and a commuter train, after 35 minutes we the the last stop. I cold have taken a Greyhound bus from here or even downtown to the main bus station in T.J. but that was 8/15 dollars and the easy way to skip Tijuana. I did think about it after at the party on Saturday in Hollywood this Mexican American guy told me how bad it is in the city.Lawyers and rich people are fleeing the city and the military is trying to get the security situation under control as the police is to corrupt and involved. He scared me a little, I had read about 50+ killings in one week, a major crime war is happening there. However when I was in San Diego nothing confirmed his reports and thousands of people are still going into the city every day. So I thought I take my chances, I didn't plan to stay there for the night anyway.
So walking through a one-way gate got me into Mexico, no passport control, to check points, nothing. This seems fine for the Mexicans and short term visitors from the US, but I needed a tourist card as I wold move deeper into the country and would stay for a while. After the paperwork and some payment (237 pesos) for it I processed through another gate into the city. I first went back towards the American side on the other side of the freeway with thousands of cars waiting to cross the border. There I handed my green US departure card through a fence to a US officer. Not returning this card when you leave the country means that for the authorities you have entered the US but never left it and therefore are staying illegally.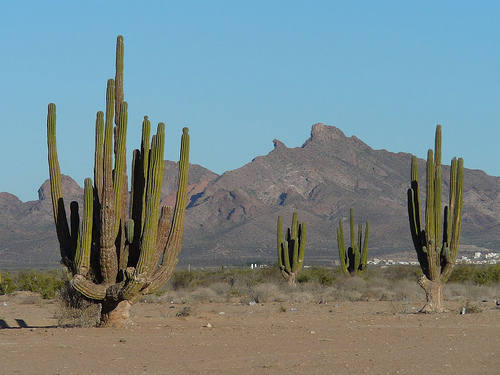 Finally I was ready to go, there is a footpath to downtown Tijuana, full of Mexicans trying to sell stuff and services to the American tourists. My plan was to take a bus to Hermosillo, a town in Sonora state, the bus I was planning to take was to leave at 16:30 andwould get there at 9:30 the next morning, a perfect ride away from the border area. Downtown Tijuana wasn't very interesting and I didn't spend much time there but it felt perfectly save.
After waiting at the wrong corner for 10 minutes I got on a city bus to the central bus terminal, which isn't central at all but way out in the southern suburbs. T.J. felt like a mixture of Southern California, and a third world city in Asia. The outskirts even reminded me of Ulan Bataar in Mongolia, because the slums were patched against the surrounding hills. I arrived at the bus terminal at 1 and the apparently last bus of the day would leave for Mexico City via Hermosillo at 3, which meant I would get there around 5 in the morning. The ticket was 530 pesos, later I learned that were other cheaper buses, so I should have shop around a little bit before buying a ticket, however the clerk didn't speak English and I has happy to get that much information out of her. There were no shops around the terminal so I had to buy some supplies for the trip inside at expensive stalls. The bus was pretty new and initially there were only 10 passengers on it, the seats would recline way back and there was a lot of leg room. Leaving early in the afternoon turned out to be very nice because the landscape we drove through was fantastic. Great hills and a descent down from a mountain range with good views. When dusk fell over the Northern Mexican plains, I saw the most big and beautiful moon in ages. It was full, very red and just inches over the horizon. The mountain range behind us already blocked all sunlight for us, but the moon was a little higher, just enough to catch somerays of the sun. The perfect moon rise. We stopped several times to pickup more passengers and sometimes for 30 minute breaks. It got dark at 6 and cold at 11, that scared me a little, but maybe I was just tired and it just felt cold. Inside the bus it was even more chilly, because the air condition was working full throttle, luckily I had brought some extra sweaters.
Even with my ear plugs and the comfy seats, I had a hard time getting any sleep. The driver was listing to loud Mexican folklore music all night and we stopped too often and actually arrived at my destination at 4 a.m. I stayed for a few hours in the terminal as I don't want to walk around in foreign cities in the dark.
Back in Hollywood I picked up the Rough Guide's "First time around the world", which has a lot of useful tips for people like me, even though I don't follow all their advices, "only one set of clothes", "no shoes". Anyways at the hostel in San Diego I exchanged it for "Neue Vahr Sued", a German novel I had read about on my way to Russia in 2005, at that time is was only available as hard back and too heavy. I started reading it, it is about a guy in his early 20s living in my hometown of Bremen, it mentions street, clubs and restaurants I'm very familiar with and it was a fun read. So this was what I was reading while waiting for the sun rise in Hermosillo. I walked into town and checked into the "Hotel Washington" right in the main shopping district (room for 220 pesos). The lady at the reception didn't speak English and my half-hearted attempts to learn Spanish didn't get me very far yet either. I managed somehow but with nobody at the bus station or at the hairdresser speaking English I saw hard times coming up. I wasn't that tired so I explored the town of 660 thousand a bit, I walked up the central hill to enjoy great views. Vast stretches of flat land in all directions, sometimes interrupted by huge rocky hills. Mountain ranges rose in the distance. It got very hot in the afternoon, I had a few tacos on the street (6 pesos each) and sat in a park for a while watching the locals and especially the teenage schoolgirls in their uniforms. Even though the Hotel Washington was the first listed in my Lonely Planet, there was no other traveller, in fact I didn't see any non-Mexicans in the whole town. The city reminded me a bit of places in Indonesia, very hot and dusty, occasional pavements but mostly sandy paths along the roads. Mostly older houses but sometimes shiny new ugly buildings. And things were much slower than in California. I wonder whether people recognize me as a tourist because I walk so fast or because of my clothes. I had a haircut for 70 pesos, a rip off as I learned when I saw signs for 35 peso haircuts around the corner. Note to myself, always compare prises first because doing anything and try to find a written price rather than just ask people. I went to bed early to catch up on sleep.
A few other things that reminded me of Asia: slow driving cars with really bad speaker systems mounted at the top, playing music or some announcements really loud to annoy everybody, or maybe just me. People having open fires to burn stuff,owner less dogs hanging out in the streets, but are pretty peaceful, only the once behind fences were barking at me. The amount of dirt and trash in the streets, people just don't seem to care about this in the same way "we" do. All this became more apparent on my third day in Bahia de Kino, a small 500 population town on the pacific coast. The bus there was 2nd class but still had air condition, the ride was great as we drove through the desert with thousands of cactus-es. I stayed at the Hotel Hacienda, a very nice new place in the old part of the town, a nice shaded yard with a swimming pool and great rooms with TV and DVD player for the after dark hours. One of the guys spoke good English and gave me the room for 400 rather than 700 pesos, still this hit hard on my budget. There were no other guests, and I guess he was happy having someone paying something.

19-Oct-2008: In Alamos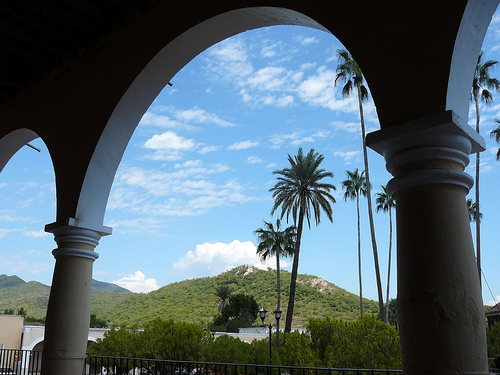 Alamos is a small town up in the hills where it is a bit colder than down in the Sonora desert. It was founded in 1540 and still has many colonial buildings, many are renovated thanks to American expats who live here in the wintertime or run hostels and restaurants in them. They do get many tourists here too, but not while I am there because a week before a hurricane hit the area. The damage itself wasn't too bad but it rained so much that the three normally dry rivers in town couldn't hold the water and about half of the town was severely flooded. There is now a major cleanup operation under way. Most shops and restaurants are closed because they were either still full of mud or their kitchens would be used to cook meals for all the people who had lost their houses. There are checkpoints with armed police when we enter the town. I stay two nights at the hotel Los Portales, an old mansion right on the main square opposite the big cathedral. An older English speaking lady runs the place which according to 'the book'is haunted. I am the only guest. We sit on the porch in the evenings and talk about traveling and the current problems of the town. I also meet three of her four daughters. The first night a group of American tourists are in town but otherwise there are no tourists. However there are many Mexicans coming to town to help cleaning it up, I missed the Mexican president by one day. I walk around town and up the hills which are very green, totally different from further north and along the coast. There is a great viewpoint on one hill showing the whole damage the overflowing rivers did to the town. Luckily the nicer parts of town were not affected by the floods and I spend some time there and also on the cemetery. I have to eat in one of the three open restaurants but even the cheapest one of them has good food for about 50 pesos a meal. However Mexico is nowhere as cheap as Asia, a bit cheaper than the US especially the accommodation, but my $50 US a day budget is pushing it. Most people here drive pick-up trucks or SUVs but there are also some old Volkswagen beetles around, I think they build them here much longer than it Europe and cars last longer here anyway. After dark soldiers with guns would patrol the streets to prevent looting but there is no curfew. Seeing these armed soldiers in their uniforms makes me feel like I am in some Latin American police state, just like in the movies.

23-Oct-2008: In the Copper Canyon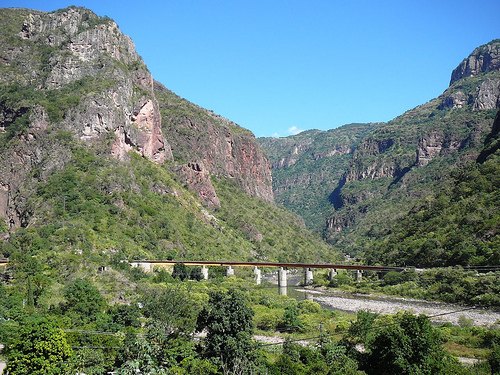 One of the major attractions in northwest Mexico is the "Barranca de cobre" or copper canyon, actually a set of 20 spectacular canyons rather than a single one, together four times as big as the Grand Canyon. One of the two remaining passenger railway lines in Mexico crosses the area in 19 hours from Los Mochis to Chihuahua. There are actually two trains, a first class one leaving at 6 am and a second class one departing at 7 am. I took the bus from near my hotel in the center of Los Mochis to the station at 5:30, this would give me plenty of time to buy a ticket and maybe look at the first class train as well. I get to the station around six and buy my ticket for 384 pesos and get pointed to the train on the platform that has "clase economica" written on its side. It turns out this is my train and it leaves right after I jump onto it. Thing is, I was on the wrong time zone for the last few days and didn't even noticed it.
On the train I finally meet some other travelers, a couple from Melbourne who just bought a yacht and are planning to sail it back to Australia, a couple from Alaska who have family relations with the Palin clan and met Sarah Palin several times, and also a young bloke from Belgium. Later a French couple and Jodi and Thomas from Edmonton, join us in El Fuerte. They put all the foreigners in the same car, just like on other touristic trains I've been on. It takes a few hours before the landscape becomes interesting, actually very interesting. There is also a group of 32 female students from Los Mochis in our car and they are pretty noisy. It seems they have never been on a train before as they all scream as we go through the first of many tunnels.
We are following the Rio Septentrion in its gorge for several hours. I spend a lot of time on the platforms between the cars where the top half of the doors are open and one can take photographs of the gorgeous landscape. Around 4 in the afternoon I get off the train in a small village very close to the rim of the main canyon. I had convinced Jodi and Thomas to join me as accommodation here is much cheaper than at the next stop of Diversadero where they had planned to get off. Jodi speaks some Spanish which is helpful as we are staying in a small family guesthouse where the people don't speak any English. In Asia in all the places mentioned in the guide books, there was at least someone who spoke some English, but not here in the Northwest of Mexico.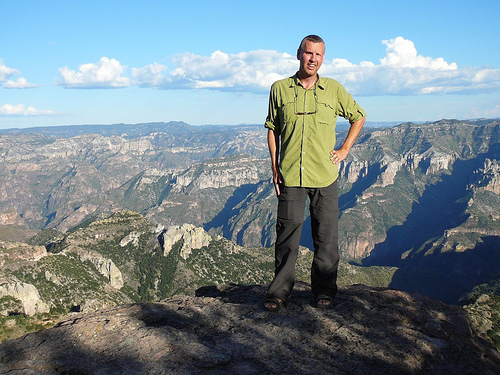 My room is basic but clean and the home cooked dinner in the family dining room is pretty good. I am not feeling a 100% fit, a have a bit of a cough for the last few days, I never have coughs so I wonder what triggered this, anyway so the next day I don't hike with the Canadians and a guide down into the canyon but just walk by myself along the rim and a little bit down for a few hours. The views are spectacular and do remind me of the Grand Canyon, but the colors are very different, rather than red, here it is gray and green. I walk with a German lady for half an hour, she took off some time from her husband who works at the German embassy in Mexico city. I really like Jodi and Thomas, they are also going to travel to many Latin American countries but only have 3 months to do so and have all their flights booked and things planned. They have to get back to their real estate jobs back in Canada. I on the other hand only plan a few days ahead.
In the afternoon we hop on the train again for 70 minutes to get to Creel, the touristic center of the region, it is 20 km away from the canyon itself though. We stay at the Casa Margaritas, which is full of travelers and also the 32 students from the train. The last dorm bed (80 pesos) they have is the lowest of a three tier bunk bed and very small. I also look at a single room for 200 pesos, after I decided for the dorm, they lower the price for the room to 150 and I accept. In general I do prefer single rooms, I just get more sleep there and the privacy is nice too. The price includes dinner and breakfast which makes it a very good deal. The food is home cooked but only two of the six meals I had were good, the rest was just okay.
The first day I take it slowly and just explore the town on foot. The second day I rent a bicycle and cycle to some of the tourist attractions nearby. A cage where indigenous people live, several rock formations that look like animals, an old mission and a nice lake again with great rock formations. I also try getting to the rim of the canyon to visit some hot springs there but my map isn't very good and I can't find the right path. After an hour on a dirt track I turn around, it takes way too long to ride here. It's pretty much cross country mountain biking. The bike I have is good but it is very exhausting, sometimes I have to push the bike up or down the track. Four times each day the arriving trains bring in new guests. One night 10 of us went to a bar and I had lots of beer but didn't get drunk, this proves that most Mexican beers are rather weak. I also meet a German couple who have been cycling for five and a half years so far and rode about 70000 km, pretty impressive.
After three days I take the train back to Los Mochis with an Aussie guy Ben, we get there at 1 a.m. and go straight to the bus station. Ben is out of money, I even had to lend him money for the train as the single ATM in Creel didn't work. So we have to walk into town to find a working ATM in the middle of the night, it feels a bit scary walking away from the ATM with our backpacks but nothing happened.

10-Nov-2008: Morelia to Mexico City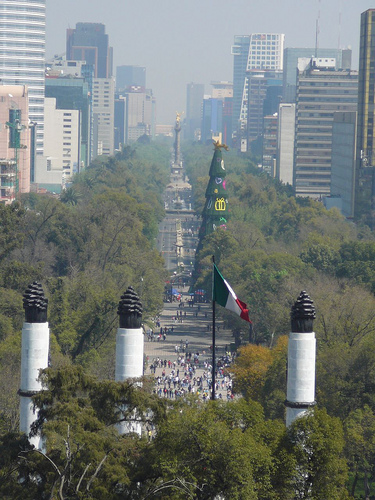 After two nights in Morelia I left to stay in one more place before hitting Mexico City. My choice was Valle de Bravo, a small town on a scenic lake in the mountains. To get there I had to change buses in Toluca, a big city on the way into Mexico (nobody says Mexico City here). I took a second class bus because that saved me 50 pesos and would take a more scenic route. By the time we got to Toluca it was already 2.p.m. and I was considering other options, staying there a night, moving to another place, still moving on to Valle de Bravo or even move on to Mexico. Well the decision wasn't mine as we didn't stop at the Toluca bus terminal and went right through all the way to Mexico city. I could have gotten off someway in the city but I didn't know we wouldn't have a proper stop. On all previous bus rides we would always stop at the terminals even in small towns. Well this way I saved about 200 pesos on the bus ride into the capital.
From the Western bus terminal I took the metro right into the historic center and checked into a hostel next to the main square, which is not as big as expected. In general the whole historic center doesn't give me the 21 million city feel that I expected. But I've only been here for an hour.

7-Jan-2009: Summary for Southern Mexico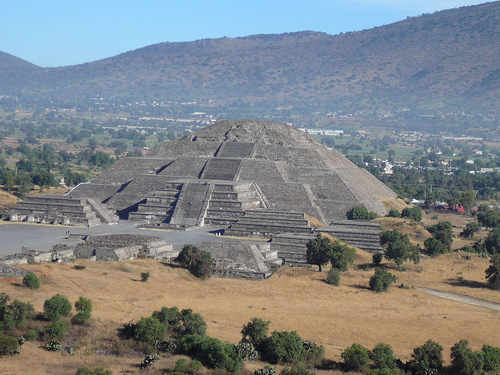 12 weeks in Mexico, about the time I had planned to stay there. It is a big and diverse country with lots of things to see, but just like China in 2005, after three months it was time to move on. I did over 6200 km on buses which are very comfy and about 1000 on the train. Soon after my last update I arrived in Mexico City, it is a big place with over 20 million people, but unless you enter or exit by bus, this fact is not very obvious. There are many different neighbourhoods which all have a distinct feeling to them. I stayed in the historic centre in a hostel right next to the Zocalo, the huge central square with the National Palace and the huge cathedral. After reading up about the city it became clear that a one week visit would not be enough. There are so many things to do that I had to stay for two weeks. I cycled and walked around town for days, visited many museums and went out drinking and dinning at night with other travellers I had met at the hostel. One highlight was the day trip to Teotihuacan with its two massive pyramids. Other highlights include a boat trip on the canals of Xochimilco in the south and a long walk along the Avenue Insurgentes. Among all the museums the Anthropology one was the big one, but after visiting it and spending 7 hours there I wouldn't want to be near a museum for a while. One night James who I had met a few weeks before in Zacatecas and I went to a launch party of a new music merchandise web site in a fancy club. In our travel outfits we stood out against the hip young local crowd. Gaby the manager of local band "Hello Seahorse" had invited me after I had contacted her about the band. A week later I had the pleasure the see the band live in a club in the fashionable Condesa neighbourhood. Walking back 60 minutes to the hostel after the gig at 2 p.m. was no problem, the whole time I was in the city I never felt unsafe. Every morning breakfast at the hostel consisted of scrambled eggs on toast and weak coffee, for lunch it was usually tacos on the street and for dinner some other meat/tortilla variations in local eateries, nearly always very delicious.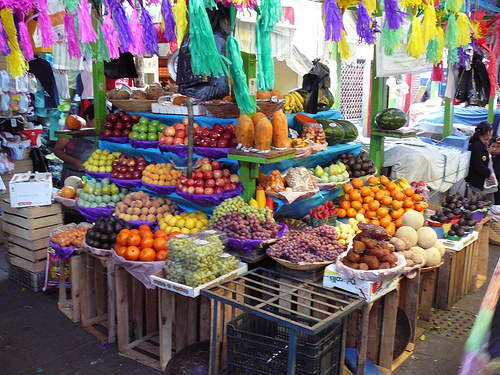 I finally left for Puebla, a nice midsize town just a few hours east. I spend a few days there sightseeing but what I remember most about it are the nights out with two South African guys and Norwegian gal Charlie when we got pretty drunk on Sol, Modelo or Victoria beers. On to Veracruz, a town on the Gulf coast, which was just interesting enough for one day. I moved on along the coast to the nice little town of Tacotalpan with beautiful painted houses around a great zocalo. Back inland my policy of not using night buses and arriving early in the day at my destination meant that sometimes I had to stay in rather dull places. One of these was Tuxtepec which wasn't even mentioned in the Lonely Planet, so I had to find a hotel all by myself.

The next big stop was Oaxaca, some people recommended this as their favourite place in the country. It was fine but too big for me and without the charms of Zacatecas or Guanajuato. The surrounding attractions however made it worthwhile to stay for a few days. I met James for the third time, together with him, Aussie Michael and a Swedish gal I went up the mountains to swim in the natural pools, explored some small ruins and cycled up Monte Alban, on top of which are some great pre-Columbian ruins. The food in Oaxaca was also pretty good, especially the local mole and the chocolate.


Then back to the Pacific coast to the surfer's spot of Puerto Escondido. The road down the mountains was steep and windy and I got sick a few times on the minibus. The waves were great and worth the long ride. I stayed in a small hippie hostel away from the town near the best waves. Around some cliffs in the next bay lay kilometres of beautiful completely empty beaches. On along the coast to the fishing village of Puerto Angel where I did a nice snorkel day trip to several bays.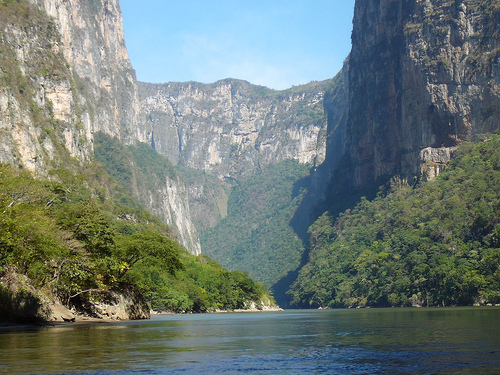 Back up into the mountains, the speed boat ride through the Canon del Sumidero was fantastic, the food in the capital of the state of Chiapas, Tuxtla Gutierrez was cheap and different as there were no tourists in town, I found some great restaurants there too. On to San Christobal, another place where "everybody goes" because it is a really nice colonial city in the mountains. Very pretty, very touristy and very cold at night. I walked 20 km to San Juan Chamula, one of the local villages where the Zapatistas people live, it was so high that it was within the clouds and I felt wet all day. Taking photos up there was not allowed. It was also the week when the locals celebrated the day of the virgin of Guadeloupe and there were fireworks everywhere. To stay warm after dark I spent my time next to the fireplace in a really good Thai/Indian restaurant where I enjoyed non-mexican food for the first time in a while. The hostel also had a nice bonfire every night which was a great place to meet people.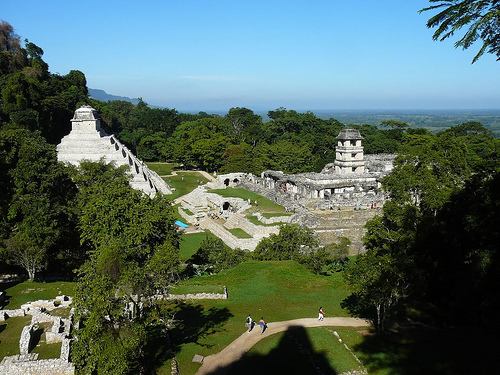 On to Palenque, the first of the big Mayan sites and it remained a favourite, being right in the jungle and having a variety of different ruins.

The last part of the trip in Mexico was on the Yucatan peninsula, which is well known for its many Mayan ruins and fantastic beaches, because of this though there are also way more tourists here than in any other part of the country. My first stop was in Campeche, a midsize town on the gulf coast. The hostel is right on the zocalo and from its rooftop I had nice views over the square, the cathedral and the ocean. Every night some bands were playing on the zocalo and it was convenient to stay in the hostel and still watch them. I spent some time with Tereza from the Czech republic and Charlie from England. I visited the second set of Mayan ruins at Edzna, quite nice and very empty, maybe 20 people on the whole site when I was there. On to the next ruins in Uxmal, which are more popular and have a big pyramid which is pretty rounded which makes it unique. On to Merida, a bigger town with some nice old architecture. The hostel was really good too and I decided to stay there over Christmas. The holidays were not too special expect that I went out to dinner with some German and Swiss travellers in fancy restaurants. One night I paid 15 Euros, more than for any other dinner in Mexico. The highlight in Merida for me was visiting some cenotes, these are underground ponds in caves. You first take a bus for 45 minutes, then a bicycle rickshaw for 10km to get to the start of a railway track, except that the little cars are pulled by horses. You visit three different cenotes along the way and can swim in all of them. Because I am cheap and felt like it, I didn't take the bicycle or the horse-train and walked the whole thing, about 34 km in total. The last cenote was the coolest as you climb down a latter into the cave for 20 meters. On to Chichen Itza, the most famous of the Mayan ruins in Mexico, it is also the most visited and so I decided to take a room in the little town close by and be at the gate at eight in the morning when they open. So for some hours it was great but by 11 O'clock, the tour buses from Cancun started to arrive and it got very crowded. Next up was Isla Majeres, a small island off the coast near Cancun; I heard about a great hostel there and was planning to spend New Years on the island. I had hoped that compared with Cancun it wouldn't be so touristy, but it still was, just on a smaller scale. The beach was way too crowded for my taste.

I walked for whole length of the island one day meeting a death penalty defence lawyer from Louisiana on the way and having very interesting conversations with her.

Here's what happen on New Year's Eve:
I took the ferry to the main land and then a bus to the zona hoteleria in Cancun, the main tourist area, I took a long walk on the beach. Some times the fantastic beach was interrupted by a group of rocks I had to climb over. While taking some clothes of to not get them wet, I lost my trousers in the rocks and waves but got it back. The whole area was so not like the rest of Mexico, just built for sun worshippers from the north. Back in Cancun proper I shopped around various malls and shops for a new iPod, my old ones battery finally died. In the end I bought a new Nano 8 GB for 2189 pesos which is not bad, Apple has an online price of 2500 and I have seen it in other shops for 2800. I also bought a whole bunch of toiletry stuff at Walmart and some cheap snorkel/mask too. Back on Isla Mujeres I tried to charge the iPod but it did not charge either. So I went for a swim with my new equipment. When I came back I first noticed my toiletry bag in the bathroom was gone. Then I notice my classes and all the things I just bought were gone too, plus my North Face trousers which I saved so heroically in the morning. Also my USB memory stick with all my photos on it. After calling the manager we noticed the mosquito screen from the window in the middle of the room. Someone had broken through the window. After a while I found a police car and we drove to the station at the other side of the island. Some young cop spoke some English and told me I have to go to some sort of ministry on the 2nd of January. So I guess I was lucky while being unlucky, because I put the new iPod, my password, money and credit cards into my backpack and locked it, so they only took the stuff that was out in the open. I did not feel like celebrating New Year's that night. The missing glasses were the worse thing, and I wouldn't be able to replace some of the travel equipment in Mexico either.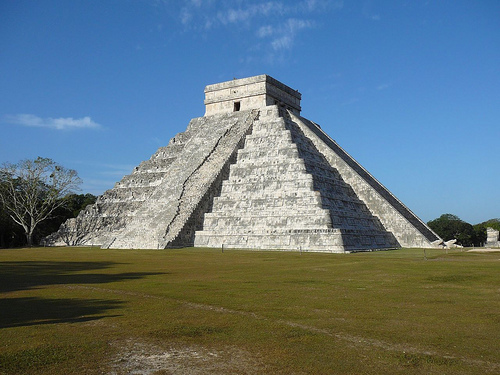 After that I was a bit down for a few days, but I got new glasses within 30 minutes down the road and getting the police report for the insurance wasn't too difficult either. My photos weren't lost either because I still had them all on my portable hard disk. After a while it became clear that it wasn't my old iPod that was broken, but the USB cable to charge it with. With a new cable to old one works fine. The new one however doesn't, as Apple changed some cable settings in their own charger and any old USB charger doesn't work with the latest generation of Nanos. So right now I can only charge it right at a PC which is not as convenient as charging it from the wall. It also shuts down unexpectedly sometimes but overall it is much nicer than the old one and I enjoy watching videos on them.

The last main stop in Mexico was in Tulum on the coast. The Mayan ruins here were not too impressive by themselves but because they are right on the coast with the blue Caribbean waters right next to them, the look amazing. I spend some days with Gretchen from New Mexico, we were thinking of walking along the fantastic beaches for a few days but after the first 4 hours it became clear that they are too many rocky stretches on the way, some of them impassable with backpacks.

So to summarise, The Unites States of Mexico were really interesting, the food was a bit different than expected but didn't disappoint. Not speaking Spanish was not a big problem but it would have been helpful to meet more locals.

15-Oct-2008: Moving into Mexico via Tijuana (Tijuana, Mexico)

16-Oct-2008: Exploring Hermosillo (Hermosillo, Mexico)

16-Oct-2008: First days in Mexico (First days in Mexico, Mexico)

17-Oct-2008: On the pacific beaches in Bahia del Kino (Bahia del Kino, Mexico)

18-Oct-2008: Back in Hermosillo, taking it easy (Hermosillo, Mexico)

19-Oct-2008: Taking it easy in Alamos (Alamos, Mexico)

19-Oct-2008: In Alamos (Alamos, Mexico)

21-Oct-2008: Alamos to Los Mochis (Los Mochis, Mexico)

22-Oct-2008: On the copper canyon train (Posada Barrancas, Mexico)

23-Oct-2008: In the Copper Canyon (Creel, Mexico)

25-Oct-2008: Creel to Mazatlan via Los Mochis (Creel to Mazatlan, Mexico)

26-Oct-2008: In Mazatlan on the Pacific coast again (Mazatlan, Mexico)

27-Oct-2008: Mazatlan to Durango (Durango, Mexico)

28-Oct-2008: Durango to Zacatecas (Zacatecas, Mexico)

1-Nov-2008: Day of the dead in Zacatecas (Zacatecas, Mexico)

3-Nov-2008: Museums in Zacatecas (Zacatecas, Mexico)

5-Nov-2008: Zacatecas to Guanajuato (Guanajuato, Mexico)

7-Nov-2008: Walking though Guanajuato (Guanajuato, Mexico)

8-Nov-2008: Guanajauta to Morelia (Morelia, Mexico)

9-Nov-2008: Sightseeing in Morelia (Morelia, Mexico)

10-Nov-2008: Morelia to Mexico City (Mexico City, Mexico)

11-Nov-2008: Orientation day in Mexico City (Mexico City, Mexico)

12-Nov-2008: Cycling along the Paseo de le Reforma (Mexico City, Mexico)

13-Nov-2008: At the Moseo Nacional De Antropologia (Mexico City, Mexico)

14-Nov-2008: Climbing up the pyramids in Teotihuacan (Mexico City, Mexico)

15-Nov-2008: At the futball in Mexico City (Mexico City, Mexico)

16-Nov-2008: Visiting more museums in Mexico City (Mexico City, Mexico)

17-Nov-2008: Online day in Mexico City (Mexico City, Mexico)

19-Nov-2008: Shopping and party in Mexico City (Mexico City, Mexico)

20-Nov-2008: Couch surfers meeting (Mexico City, Mexico)

21-Nov-2008: Cycling and record shopping in Mexico City (Mexico City, Mexico)

22-Nov-2008: Long walk and a gig with local bands (Mexico City, Mexico)

23-Nov-2008: Mexico City to Puelba (Puelba, Mexico)

24-Nov-2008: At the pyramid in Cholula (Puelba, Mexico)

25-Nov-2008: Puebla to Veracruz (Veracruz, Mexico)

26-Nov-2008: Veracruz to Tuxtepec (Tuxtepec, Mexico)

27-Nov-2008: Tuxtepec to Oaxaca (Oaxaca, Mexico)

28-Nov-2008: Swimming at Hierve El Agua in the mountains (Oaxaca, Mexico)

29-Nov-2008: Cycling up to Mount Alban (Oaxaca, Mexico)

30-Nov-2008: On the markets in Oaxaca (Oaxaca, Mexico)

1-Dec-2008: Sightseeing in Oaxaca (Oaxaca, Mexico)

2-Dec-2008: Oaxaca to Puerto Escondido by mini-bus (Puerto Escondido, Mexico)

3-Dec-2008: On the beach in Puerto Escondido (Puerto Escondido, Mexico)

4-Dec-2008: Body surfing in Puerto Escondido (Puerto Escondido, Mexico)

5-Dec-2008: Puerto Escondido to Puerto Angel (Puerto Angel, Mexico)

6-Dec-2008: Snorkel tour in Puerto Angel (Puerto Angel, Mexico)

7-Dec-2008: Puerto Angel to Tehuantepec (Tehuantepec, Mexico)

8-Dec-2008: Tehuantepec to Tuxtla (Tuxtla Gutierrez, Mexico)

9-Dec-2008: Boat ride in the Canon del Sumidero near Chiapa de Corzo (Tuxtla, Mexico)

10-Dec-2008: Tuxtla to San Cristobal (San Cristobal de las Casas, Mexico)

11-Dec-2008: On the market in San Juan Chamula (San Cristobal, Mexico)

12-Dec-2008: Dia de la virgen de Guadalupe (San Cristobal, Mexico)

13-Dec-2008: Up to the churches in San Cristobal (San Cristobal, Mexico)

14-Dec-2008: San Cristobal to Palenque (Palenque, Mexico)

15-Dec-2008: Lazy day in my jungle cabena in Palenque (Palenque, Mexico)

16-Dec-2008: At the Maja ruins of Palenque (Palenque, Mexico)

17-Dec-2008: Palenque to Campeche (Campeche, Mexico)

18-Dec-2008: Beaches and fortresses in Campeche (Campeche, Mexico)

19-Dec-2008: Another day in Campeche (Campeche, Mexico)

20-Dec-2008: At the Maya ruins in Edzna (Campeche, Mexico)

21-Dec-2008: Campeche to Ticul (Ticul, Mexico)

22-Dec-2008: At the Maya ruins of Uxmal (Merida, Mexico)

23-Dec-2008: Walked 32km to the Cuzama cenotes caves and swam in them (Merida, Mexico)

24-Dec-2008: Relaxing christmas eve in Merida (Merida, Mexico)

25-Dec-2008: Lazy Christmas day in a hammock (Merida, Mexico)

26-Dec-2008: At the Maja ruins of Chichen Itza (Piste, Mexico)

27-Dec-2008: Another day at the ruins of Chichen Itza (Valladalid, Mexico)

28-Dec-2008: Valladolid to Isla Mujeres (Isla Mujeres, Mexico)

29-Dec-2008: Walked around the island with Liz (Isla Mujeres, Mexico)

30-Dec-2008: Lazy day in Isla Mujeres (Isla Mujeres, Mexico)

31-Dec-2008: Shopping in Cancun / hotel room broken into (Isla Mujeres, Mexico)

1-Jan-2009: Recovering from New Years eve (Isla Mujeres, Mexico)

2-Jan-2009: Shopping in Cancun to replace the stolen stuff (Isla Mujeres, Mexico)

3-Jan-2009: Cancun to Tulum (Tulum, Mexico)

4-Jan-2009: Maya ruins in Tulum and then on the fantastic beach (Tulum, Mexico)

5-Jan-2009: Maya ruins in Coba and then on back to the beach (Tulum, Mexico)

6-Jan-2009: Tulum to Chetumal, last day in Mexico (Chetumal, Mexico)

7-Jan-2009: Summary for Southern Mexico (Summary, Mexico)